Print Friendly Version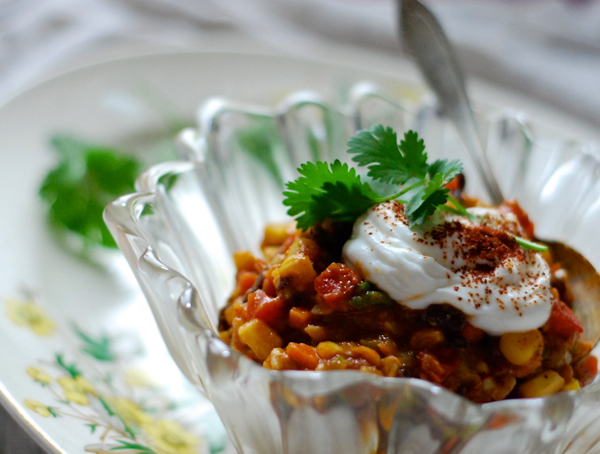 Here's what I whipped up for our lunch today. Delicious, spicy and satisfying. Serve with your favorite tortilla chips! The great northern beans naturally mash up during the mixing process, lending a smooth texture that combines well with the other ingredients and makes this dip yummy and interesting. I use all low-sodium options for my dip.
1 (15 oz.) can organic black beans, well-drained and rinsed
1 (15 oz.) can organic great northern beans, well-drained and rinsed
1 can organic sweet corn, well-drained
2 large carrots, peeled and chopped fine
2 celery sticks + green tops, chopped fine
4 green onions + tops, chopped
2 Roma tomatoes, seeded and chopped
2/3 cup cold, cooked rice (I used brown)
juice of one large lime or lemon
1/3 cup extra virgin olive oil
2 Tablespoons Sriracha hot sauce
splash of white wine vinegar
1 Tablespoon cumin
1 teaspoon garlic powder
1 teaspoon smoked paprika
1 teaspoon chili powder (mild)
1/2 teaspoon chipotle powder
a pinch of cinnamon
sea salt to taste
Combine all ingredients in a large mixing bowl until everything is mixed well. Cover and chill for 2 hours prior to serving. Plate and top with a little sour cream, queso fresco, feta cheese or greek yogurt. Garnish with cilantro sprigs. Serve with tortilla chips as an appetizer or alongside any of your favorite Mexican dishes.
Enjoy!
~Melissa
You may enjoy these related posts: