Print Friendly Version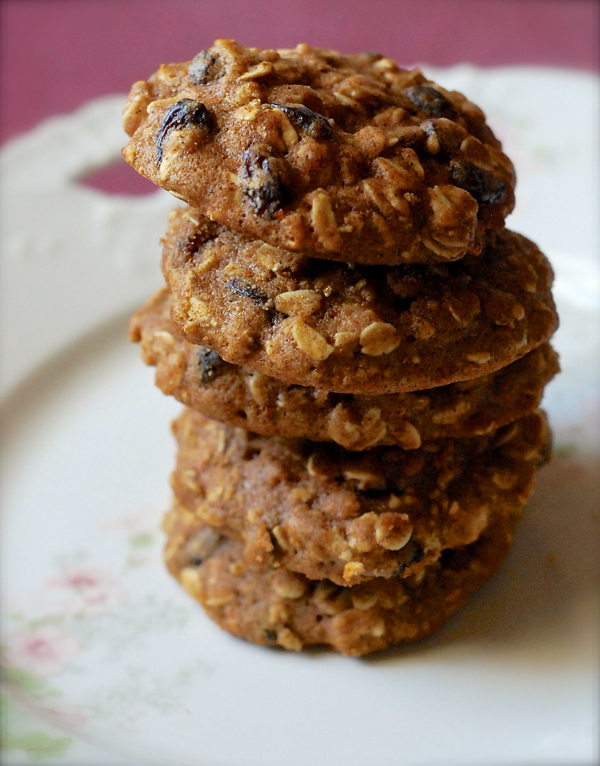 My daughter Grace has been busy in the kitchen again! This time she made healthy oatmeal raisin cookies for her school lunches and for tea time after school. These are so delicious and not too sweet. You could even grab a couple for breakfast on the go if you're in a hurry in the morning.
~ preheat oven to 325 degrees F. ~
1 cup old fashioned rolled oats (not quick cooking, instant, or steel cut)
3/4 cup whole wheat flour
1 and 1/2 teaspoons baking powder
2 teaspoons cinnamon
a pinch of nutmeg
1/2 teaspoon salt
2 Tablespoons coconut oil or unsalted, grass fed butter, softened
1 large egg, lightly beaten
1 teaspoon pure vanilla extract
1/2 cup honey or pure maple syrup
1/3 cup regular or golden raisins
Combine oats, flour, baking powder, cinnamon, nutmeg and salt together in a mixing bowl.
In a separate mixing bowl, combine oil/butter, egg, vanilla and honey/syrup. Mix well. Stir in dry ingredients and mix just until all ingredients are evenly combined. Fold in raisins. Refrigerate dough for 30 minutes.
Line a baking sheet with parchment, or use a Silpat mat. Drop 12 to 15 rounded spoonfuls of cookie dough onto the baking sheet. Gently flatten them a bit using the back of a spoon. Bake for approximately 12 to 13 minutes, or just until the cookies are slightly golden and set. Remove cookies from oven and allow them to cool on the baking sheet for 10 minutes prior to transferring them to cooling racks where they can cool completely. Store completely cooled cookies in airtight containers. If you don't eat the cookies within 5 days, freeze them in freezer Ziplocs.
Enjoy!
~Grace and Melissa
You may enjoy these related posts: