Print Friendly Version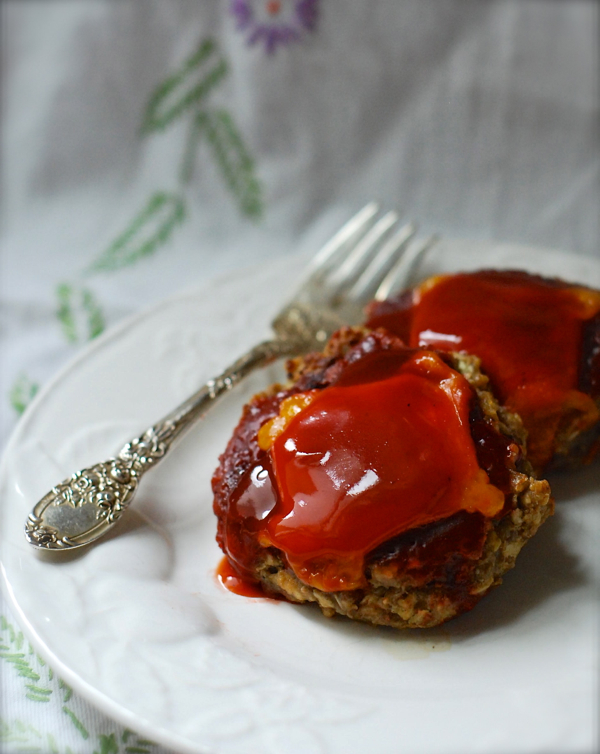 Here's a unique recipe for "veggie" burgers that my mom created back in the 70s. They're called "veggie" as in vegetarian, not because there are veggies in them 🙂 I had to clear that up before sharing the recipe. These burgers are hard to describe, but let me just say, they are completely wonderful. My mom always makes a huge batch and they're always gobbled up right away. If you're only cooking for two people, you may want to try cutting the recipe in half the first time you make them. They do keep well in the fridge and are wonderful reheated.
You'll notice that my mom specifies Open Pit BBQ Sauce as the topping for these burgers. It's funny, nobody in our family really likes Open Pit, but it's the perfect on these and it's the only time we use it. Do a taste test and see what you prefer.
yield: 20 patties
~ preheat oven to 350 degrees F. ~
8 large eggs, lightly beaten
8 oz. cream cheese, softened to room temperature
2 sleeves soda crackers (Saltines), ground fine in food processor
1 cup dry, old fashioned, oats (not quick cooking)
1 cup walnuts, finely ground in food processor
1 large onion, chopped fine
1 packet Lipton dry onion soup mix***
2 teaspoons garlic powder
olive oil for browning patties
1 bottle Open Pit BBQ sauce (or your favorite)
20 slices sharp cheddar cheese
Mix everything, except for the oil, BBQ sauce and cheddar cheese, in a large mixing bowl until very smooth and well combined. Shape into 20 patties (the mixture will be very sticky). Heat about a Tablespoon of oil in a skillet. Brown the patties in batches in the hot skillet, until golden brown on each side (1 to 2 minutes per side). Transfer browned patties to 2 oiled baking sheets. Repeat until all of the veggie burger mixture is used up.
Once patties are browned and on the baking sheets, bake them for 15 minutes in preheated oven.
Remove them from oven and place a slice of cheddar cheese on each patty, followed by a Tablespoon of the BBQ sauce.
Put the veggie burgers back in the oven and allow them to cook for an additional 15 minutes.
These can be served on buns with your favorite toppings, but we always eat them as they are with a little more BBQ sauce on the side for dipping. They're awesome with a simple, crisp spinach salad.
***NOTE ~ If you'd like to make your own dry onion soup mix, here's an easy recipe… You'll only use 5 Tablespoons of this as a replacement for the Lipton soup mix in the above veggie burger recipe.
~ Homemade Dry Onion Soup Mix ~
3/4 cup dried minced onion
1/3 cup MSG-free beef bouillon powder
1 Tablespoon onion powder
1 Tablespoon dry parsley flakes
1/4 teaspoon celery seed
1/4 teaspoon sugar
Enjoy!
~Melissa
You may enjoy these related posts: