Print Friendly Version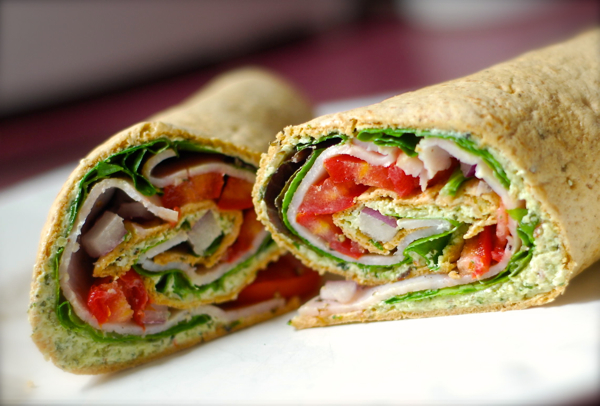 I adore wrap sandwiches. Part of the reason is that sometimes I have no idea what to make for lunch and a pack of wraps in the pantry always saves the day. That's what happened a few days ago. No mayo! No mustard! No chicken breasts! What to do? Here's what I came up with. I think this just might be my new favorite. I use an amazing product that I just discovered at the grocery store a couple weeks ago… greek yogurt cream cheese! It's much lighter than regular cream cheese and boasts the added benefits of greek yogurt. Love, love, love! 🙂 Use whatever sandwich meat or other cooked meat you have on hand. This would be awesome with leftover, cold grilled chicken or steak too!
for 2 wrap sandwiches:
2 sandwich wraps or 2 large flour tortillas
1/4 cup cream cheese (lite or neufchatel is fine… I used Greek Yogurt Cream Cheese)
1/4 cup freshly made pesto (or the pre-made, jarred stuff in a pinch)
a couple handfuls of fresh baby spinach, arugula or spring greens
6 thin slices of maple glazed smoked turkey breast (or whatever meat you have on hand)
2 Tablespoons chopped purple onion
8 thin slices of cucumber
1 Roma tomato, cut into little chunks
2 pickled pepperoncini peppers, chopped fine (optional)
salt and freshly ground pepper, to taste
In a small bowl, combine the cream cheese and pesto until smooth and mixed well. Place the wraps on two separate plates and divide the pesto cream cheese evenly between the two, spreading to cover. Top with the remaining ingredients in the order given. Wrap tightly and secure with short wooden skewers, if needed. Serve with pickles, baby carrots or your favorite chips.
Enjoy!
~Melissa
You may enjoy these related posts: