Print Friendly Version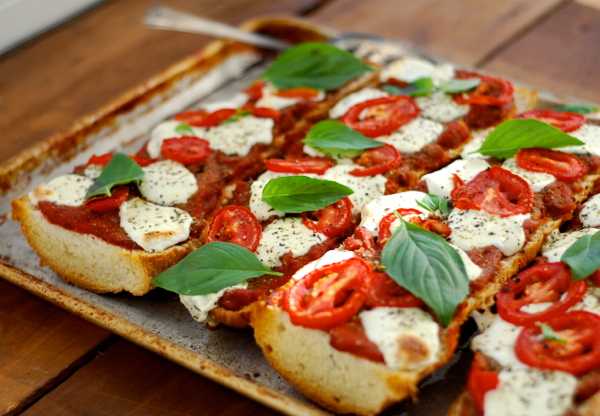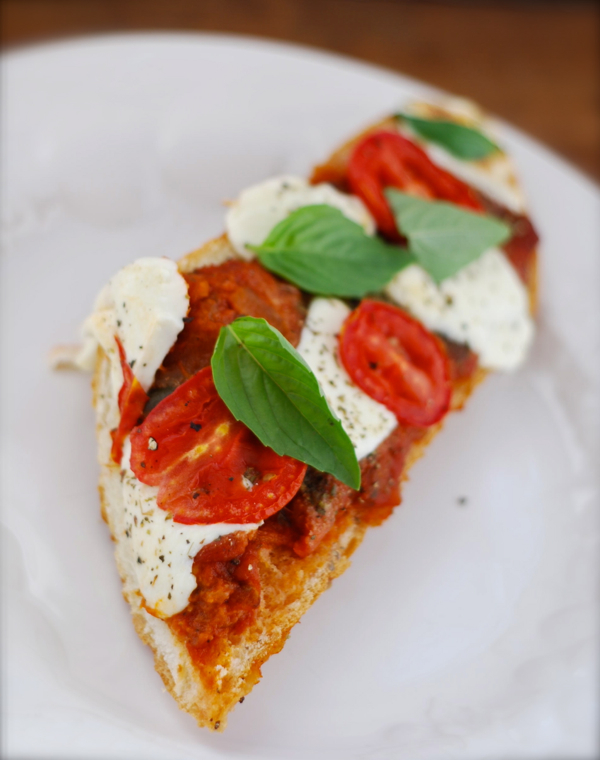 Happiness is receiving a HUGE shipment of my friend Gary's Italian sauces! He developed a new line called Pomodori and everything I've tasted is amazing. These sauces are available at some grocery stores, and online, at very reasonable prices.
Today we're focusing on his gorgeous Caponata…
"Pomodori's classic, Authentic Italian sweet and sour eggplant dish is rich and naturally sweetened with caramelized onions, tomatoes, and raisins. It makes a great vegetarian dish, but we just spread it on some good, crusty Italian bread. So fresh and tasty!" ~ from the Pomodori website
This was positively amazing paired with the Tomato Basil and used as a pizza sauce! A new twist on the classic Margherita pie!
serves 4 as an entree and 8 as an appetizer:
~ preheat oven to 400 degrees F. ~
1 long loaf, soft crusty "French-style" bread (not traditional baguette)
11.50 oz. jar Pomodori Caponata Sauce or 1 cup homemade Caponata
1 cup Pomodori Tomato Basil Sauce or your favorite spaghetti sauce
8 to 10 oz. fresh Mozzarella, sliced into smallish pieces
2 Roma tomatoes, sliced thin
2 large garlic cloves, minced
dry Italian seasoning for sprinkling
freshly ground black pepper
16 to 20 fresh basil leaves
Cut long loaf in half and then slice it in half horizontally. Place loaf pieces, crust side down, on a large baking sheet. Combine the jar of caponata with the cup of Tomato Basil Sauce. Spread all of the sauce, evenly, over the loaf pieces. Top with Mozzarella pieces, tomato slices, minced garlic, a sprinkle of dry Italian seasoning, and finally a generous sprinkle of freshly ground pepper. Bake in preheated oven for 15 to 20 minutes, or until the pizzas are hot to the touch when you poke them in the center, and the cheese is lightly golden and melted. Garnish with the fresh basil leaves. Serve.
Enjoy!
~Melissa
You may enjoy these related posts: