Print Friendly Version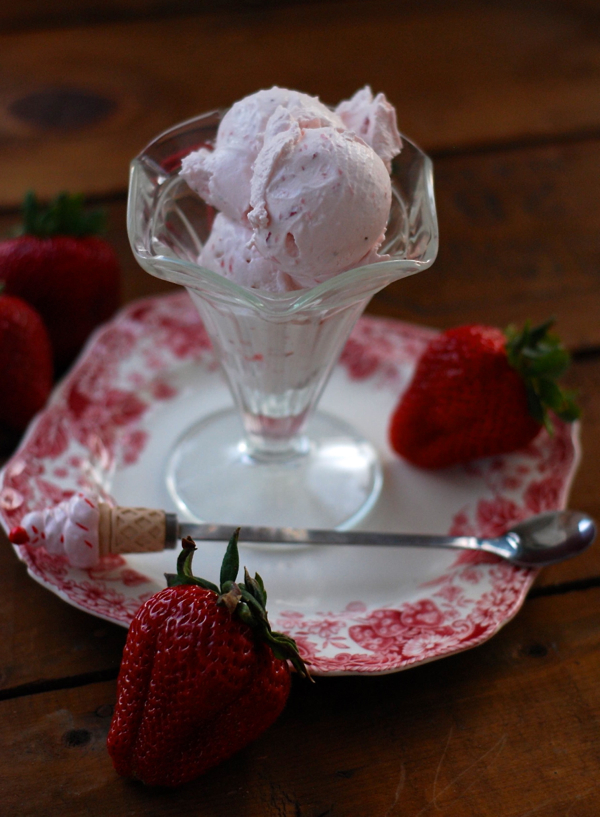 Here's a recipe for making gorgeous, minimalist strawberry ice cream. I decided to keep my first "real" ice cream recipe short and simple because this was my first time using an electric ice cream maker. I couldn't believe how easy it was. Gone are the days of endless hand cranking and using tons of salt to keep the ice cold. Although I get a little sentimental when I recall making ice cream that way, I must admit that I will never go back now that I've seen how quick and clean this new machine makes the process. 20 minutes! What? 🙂
This ice cream really showcases the fresh, ripe strawberries. It's sweet, silky, creamy and bursting with flavor! I have so many ice cream, frozen yogurt, sorbet and gelato recipes I'm excited to make! What's your favorite ice cream flavor?
~ makes 5 cups (ten 1/2 cup servings) ~
1 and 1/2 cup sliced, fresh, ripe strawberries (green tops and hulls removed)
1/2 cup whole milk
2/3 cup granulated sugar
1/8 teaspoon salt
2 cups heavy cream
2 teaspoons pure vanilla extract
Put strawberries into the bowl of a food processor fitted with a chopping blade. Pulse until rough-chopped. Reserve in the bowl of the food processor and set aside.
In a medium bowl, mix the milk, sugar and and salt until the sugar is dissolved. Stir in heavy cream and vanilla. Add strawberries and all the juices. Stir. Cover tightly and refrigerate 3 to 8 hours.
Turn on your ice cream maker. Pour chilled ice cream mixture into the completely frozen freezer bowl and allow to mix until thickened to your liking (I let it go about 15 to 20 minutes.) Don't fill your freezer bowl more than 1/4 inch from the top as the ice cream will expand upon freezing.
This ice cream will have a soft, creamy texture. For a firmer ice cream, remove to a freezer safe container with a lid and place in freezer for two hours. Allow to sit for about 10 minutes, or until scoopable.
Enjoy!
~Melissa
You may enjoy these related posts: