Print Friendly Version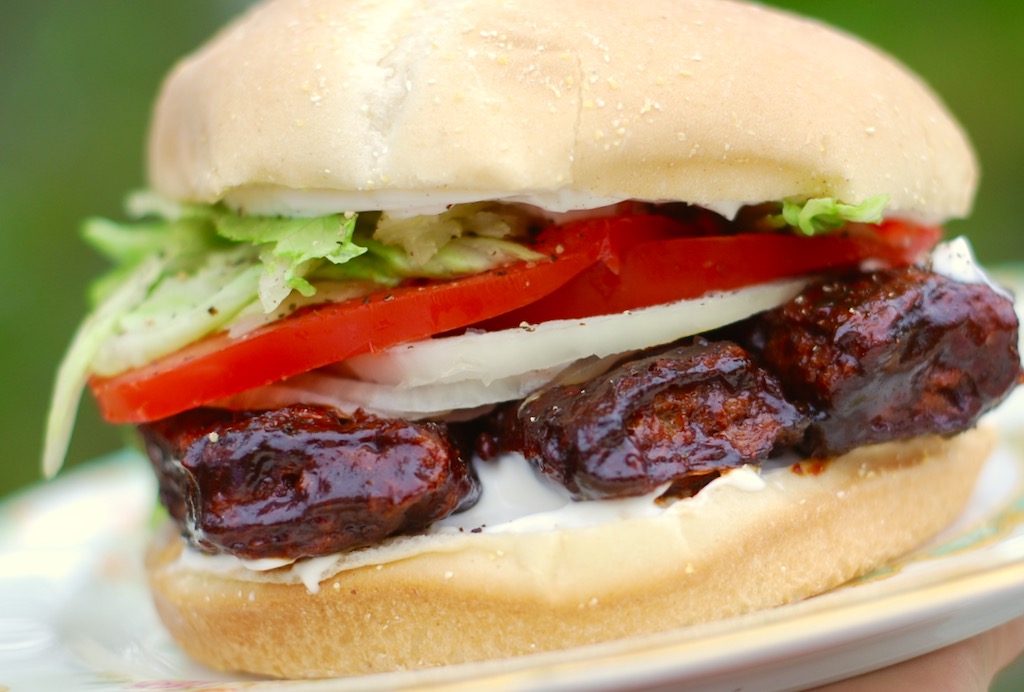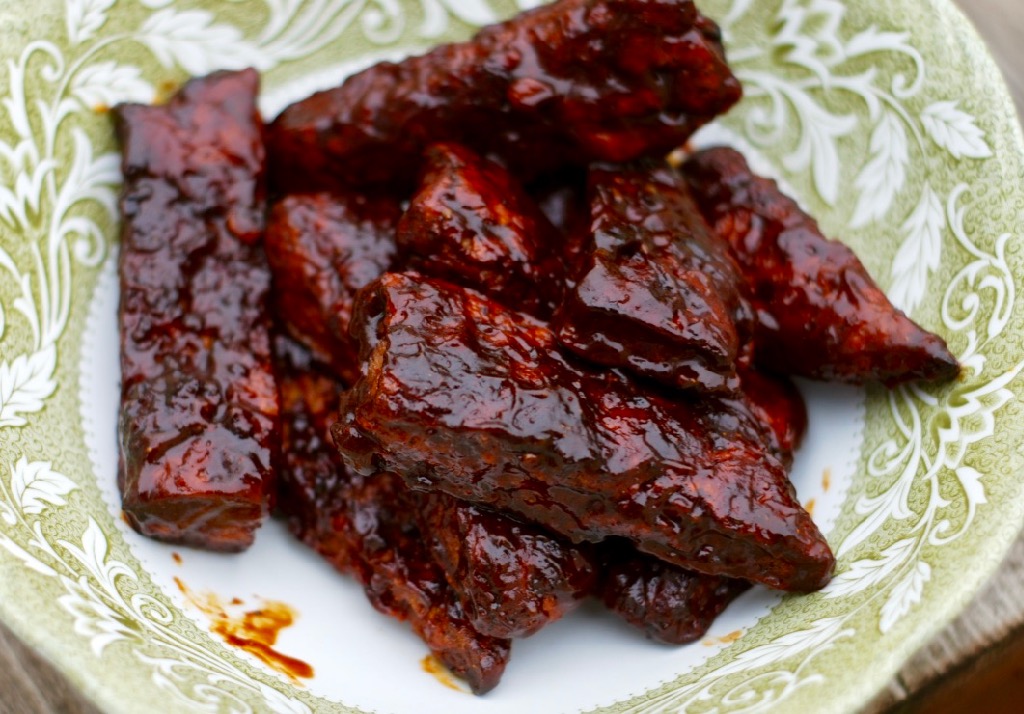 I wasn't sure what to make for dinner last night and almost resorted to tired leftover soup. I was sooooo not in the mood for soup. Then I remembered a little recipe I ran across some time back for easy vegan BBQ riblets that you make in your air fryer.
I didn't have high expectations for these. Not gonna lie. I was almost positive that making seitan anything in the air fryer was going to be a disaster and a waste of ingredients. But last night I really didn't want soup. So I thought what the hay. I'd just try the recipe. I changed it almost completely from the original one that I had found. That's how I roll. Most things don't include enough spices IMO, so I went nuts.
Fast forward to the yummy sounds my husband made when he tried these vegan riblets in a sandwich. Yeah, these aren't just good, they're amazing. This is a recipe that is a great example of something that is too good to be true… but it ACTUALLY IS THAT GOOD.
Okay, I'm done with my schpeal. On to the recipe. It takes about 25 minutes from start to finish. Enjoy with or without the bun. Feel free to use whatever your favorite BBQ sauce is, or use the one in this post. It's my original recipe and it's the bomb dot com. Sorry I keep using dorky catch phrases. It's a sickness.
PS… if you don't have vegetable stock, you can use water mixed with something else that's salty to equal 3/4 cup (such as soy sauce, miso, vegan Worcestershire sauce… you get the idea. Not too much or your riblets will be too salty.)
for the riblets:
(serves 2 hungry people)
1 cup vital wheat gluten
1/4 cup nutritional yeast
1 heaping Tablespoon smoked paprika
1 teaspoon Mrs. Dash original table blend
1 heaping teaspoon onion powder
1 heaping teaspoon garlic powder
1/4 teaspoon freshly ground black pepper
1/4 teaspoon white pepper
3/4 cup vegetable stock
1/4 cup BBQ sauce for the dough
more BBQ sauce for coating the riblets
Place all dry ingredients in a large mixing bowl and stir with a wire whisk until well incorporated. Mix all of the wet ingredients in a smaller bowl and then add them to the dry ingredients. Stir, using a wooden spoon, until a soft dough forms. It will be sticky. Turn out onto a clean surface and knead a little more vital wheat gluten into the dough so you can handle it without it sticking to your fingers (no more than a couple Tablespoons or your riblets will be tough.)
Knead for 1 minute. Form into a circle that will fit in the basket of your air fryer. Pat to about 3/4 inch thickness. If you have a small air fryer you'll have to do this in two batches.
Spray air fryer basket with non-stick cooking spray and then put the circle of dough in. Air fry at 375 degrees F. for 8 minutes, checking from time to time. You want the surface to have some golden brown splotches on it and for the surface to firm up. Flip and air fry at the same temperature for approximately 5 minutes more. Remove when browned and firm on both sides. Cut into strips. The riblets will still seem a little soft on the inside. That's okay. Toss them with some BBQ sauce to coat. Place a circle of cooking parchment in the bottom of the air fryer basket. Place the ribs on the parchment, spacing them out as much you can so they're in an even layer. Air fry for a couple minutes and then flip and fry another 1 to 2 minutes. Watch carefully so the sugar in the sauce doesn't cause your riblets to burn.
Remove from air fryer. Toss with more sauce. Serve.
for my homemade BBQ sauce:
1/4 cup molasses
1/2 heaping cup ketchup (we use Simply Heinz)
2 Tablespoons Dijon mustard
1 Tablespoon smoked paprika
1 Tablespoon malt vinegar
1 teaspoon Mrs. Dash table blend
1/4 cup coconut sugar (or more if you like a sweeter sauce)
2 teaspoon sriracha hot sauce
1 Tablespoon teriyaki sauce
1/4 teaspoon dark sesame oil
Mix all in a small saucepan. Stir with wire whisk. Heat until ir gently simmers and sugar is dissolved. Remove from heat and store in a canning jar with a tight fitting lid. Will keep in your refrigerator for a few weeks.
Enjoy!
~Melissa
You may enjoy these related posts: