Print Friendly Version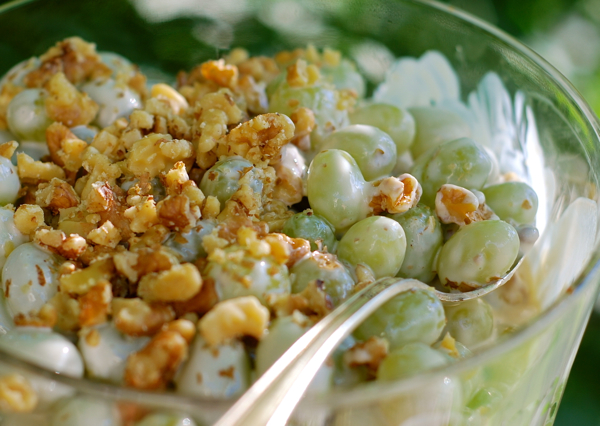 If you've never tried grape salad, you've probably never been to a picnic or potluck in the Midwest. This yummy, simple, creamy salad can be spotted at gatherings all over Minnesota, any time of year. We love how the sour cream and brown sugar bring out the flavor of the juicy grapes! Use the freshest ones you can find. We use green grapes because their tartness is a nice contrast to the sweet dressing.
6 to 7 cups green grapes, washed and patted dry
1 cup sour cream (not lite)
1/2 cup brown sugar
1 cup walnuts or pecans, chopped
a sprinkle of salt
Wash grapes well and gently pat dry. Place them in a large mixing bowl.
In a medium mixing bowl, combine the sour cream and brown sugar. Using a whisk, mix until smooth and sugar is completely dissolved.
Pour dressing over grapes and gently mix well, taking care not to mash the grapes. Cover and refrigerate until ready to serve. (This will keep in the refrigerator for several hours.)
Once ready to serve, mix again, sprinkle a little salt over the top (just a pinch) and top with the chopped nuts.
Enjoy!
~Melissa
You may enjoy these related posts: