Print Friendly Version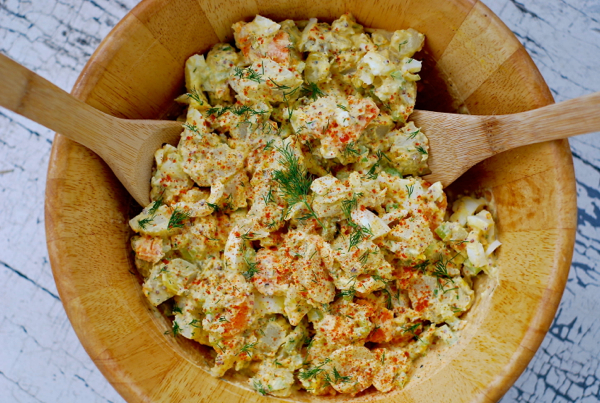 Who doesn't love a scoop of yummy potato salad with fried chicken or grilled steak in the spring and summer? We adore the old, traditional, tried and true potato salad that we've been making forever, but we're having fun creating healthier versions that are equally delicious. There are so many different possibilities for potato salad. This time we opted for a mostly greek yogurt dressing, half sweet potatoes in place of the russets, and LOTS of fresh dill. The result was amazing and we didn't miss the heavy, mayo-laden version one bit!
6 hard cooked eggs, peeled, cooled and chopped
1-2 lb. russet potatoes, peeled
1-2 lb. sweet potatoes, peeled
1/2 cup plain greek yogurt
2 heaping Tablespoons real mayonnaise
2 heaping Tablespoons grainy Dijon mustard
1 Tablespoon raw honey, melted and cooled a bit
1 Tablespoon apple cider vinegar
1/4 cup finely chopped onion
2 sticks finely chopped celery
1/4 cup chopped bread & butter pickles
3 to 4 Tablespoons fresh dill, chopped fine + more for garnish
1 teaspoon *fennel salt (or sea salt)
1 teaspoon garlic powder
1/2 teaspoon crushed red pepper flakes
freshly ground black pepper, to taste
smoked paprika (garnish)
Hard boil eggs. Peel and then cool them. Once cool, chop them up and place them in a large mixing bowl. Set in fridge while you make your potatoes and dressing.
Peel potatoes, cut them into uniform, bite size pieces. Place them in a large saucepan, cover with water and bring to boil. Cook until they're firm-tender (not mushy!) Drain well. Spread out on platters or cookie sheets and allow them to cool completely before adding them to the mixing bowl with the eggs.
To make the dressing: In a medium mixing bowl, combine the yogurt, mayonnaise, mustard, honey, vinegar, onion, celery, dill, fennel salt, garlic powder, red and black pepper. Mix well and pour over the completely cooled egg/potato mixture in the big bowl. Gently fold dressing into the potato mixture so everything is evenly coated. Garnish with a little extra, fresh dill and a sprinkle of smoked paprika. Cover and refrigerate until ready to serve. Eat within 48 hours.
*To make fennel salt: Grind a Tablespoon of fennel seeds in a clean coffee grinder. Place ground fennel in a small glass jar or tin. Add 3 Tablespoons sea salt to the fennel and mix well. Cover until ready to use.
Enjoy!
~Melissa
You may enjoy these related posts: