Print Friendly Version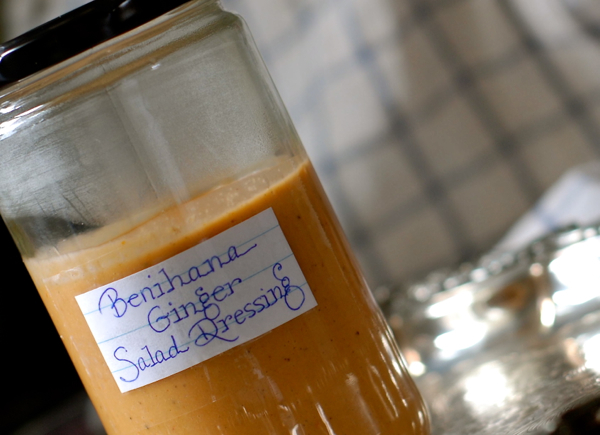 If you've ever been to Benihana Teppanyaki Japanese Restaurant, you've probably had this amazing salad dressing at some point. It's wonderful on a simple tossed salad or as a dipping sauce for steamed veggies and grilled meats. We even like it as a sandwich spread!
1/2 cup minced yellow onion
1/2 cup peanut oil
1/3 cup seasoned rice vinegar
2 Tablespoons water
2 Tablespoons fresh, minced ginger
2 Tablespoons minced celery
2 heaping Tablespoons organic ketcup
1 Tablespoon lite soy sauce (or regular soy sauce)
3 teaspoons sugar
3 teaspoons fresh lemon juice
1 large clove garlic, minced
1/2 teaspoon freshly ground black pepper
Place all ingredients in the bowl of a blender. Cover tightly and blend until smooth. Transfer dressing to a canning jar. Cover tightly with lid. Refrigerate until ready to use. This dressing will keep for 5 to 7 days in your refrigerator.
Enjoy!
~Melissa
You may enjoy these related posts: