Print Friendly Version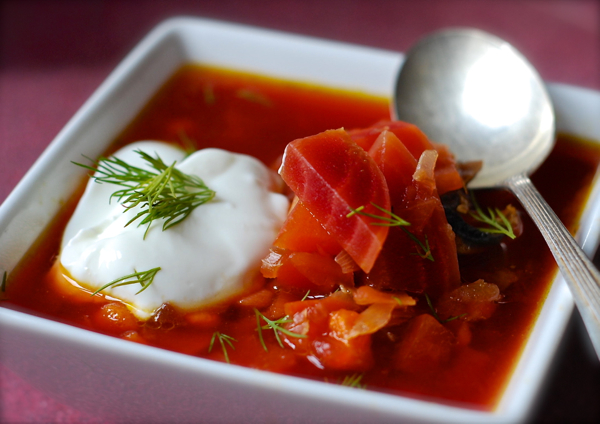 This is one of those recipes that has made me rethink health food. I use to think healthy food meant boring, bland and unsatisfying. This gorgeous soup is bright, flavorful, and absolutely filling. That big dollop of greek yogurt gives this dish a protein boost without fat or meat so it's the perfect entree to serve to your vegetarian friends.
My daughter Gracie and I are focusing on foods that make you beautiful inside and out without sacrificing flavor. This is the first in a series of recipes we believe falls into that category. Enjoy!
Serves 10 to 12 people
3 medium onions, chopped
5 large carrots, peeled and sliced thin
4 stalks celery, chopped
1/4 cup olive oil
12 cups vegetable or chicken stock
1 (14 oz.) bag coleslaw mix
3 large beets, peeled and cut into bite size pieces
2 large parsnips, peeled and chopped
1 small rutabaga, peeled and chopped
2 large sweet potatoes, peeled and chopped
7 large cloves garlic, minced
1/4 cup fresh dill, chopped (plus more for garnish)
2 cups wild mushrooms OR baby bella mushrooms, washed and sliced
sea salt and freshly ground black pepper
8 oz. plain greek yogurt or sour cream
In a large, heavy stock pot, saute onion, celery and carrots in the olive oil over medium-low heat for 10 minutes, or until translucent and slightly golden. Add stock, dill and all veggies except for the mushrooms. Bring to a boil and then lower to a gentle simmer. Cover and simmer on very low until veggies are firm-tender (approximately 45 minutes to an hour.) Add mushrooms, salt and pepper to taste. Simmer 10 minutes. Ladle into bowls and serve with fresh dill, yogurt/sour cream and fresh, buttered, whole grain bread. Mmmmmm!
XO,
~Melissa
You may enjoy these related posts: