Print Friendly Version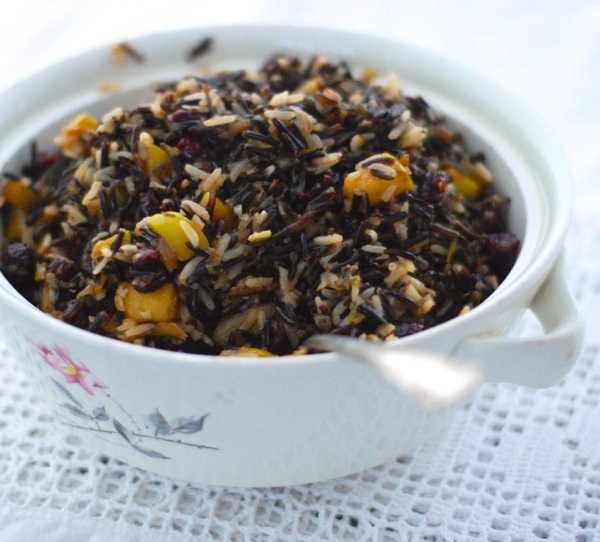 We'll be on the road shortly. We're taking a little road trip to the Mall of America and IKEA for some shopping and then we're going out to lunch. I'm looking forward to finding lots of fun things for my kitchen. IKEA is such a fun place to visit for inspiration.
It's a beautiful, snowy day here in Minnesota. What's the weather like where you live?
Here's a delicious, healthy pilaf that could easily be turned into a main course by just adding some cubed, cooked chicken or pork. We had it with a simple Dijon chicken that I made by placing 4 frozen chicken breasts in a roasting pan and drizzling them with extra virgin olive oil, Dijon mustard, and honey…a splash of white wine and a sprinkling of salt and pepper ~ baked them at 350 for about 50 minutes. So easy and yummy.
for the pilaf:
6 cups cooked wild rice (make according to package directions)
1 cup cooked basmati rice (cook according to package directions)
1/2 cup onion, chopped fine
1/2 cup celery, chopped fine
1 tart apple, unpeeled and cubed
1 cup craisins
1/3 cup chopped almonds
2 teaspoons butter
for the dressing:
1/4 cup extra virgin olive oil
3 Tablespoons honey
2 Tablespoons soy sauce
2 Tablespoons Marsala wine
1 teaspoon Dijon mustard
1 teaspoon hot sauce
1/2 teaspoon thyme leaves
1/2 teaspoon garlic powder
1/4 teaspoon rubbed sage
1/4 teaspoon ground cinnamon
sea salt, to taste
freshly ground pepper, to taste
pinch of chili powder
Cook the wild and basmati rices seperately, according to package directions. Place cooked rices in a large mixing bowl. Saute the onion celery and apple in the 2 teaspoons butter until tender. Add to the rice along with the craisins and almonds. Mix well.
In a small mixing bowl, combine all ingredients for the dressing using a wire whisk. Pour over pilaf and mix well until all ingredients are evenly incorporated.
Serve warm or cold with your choice of meat or fish, and steamed French green beans or arugula salad.
Enjoy!
~Melissa
You may enjoy these related posts: