Print Friendly Version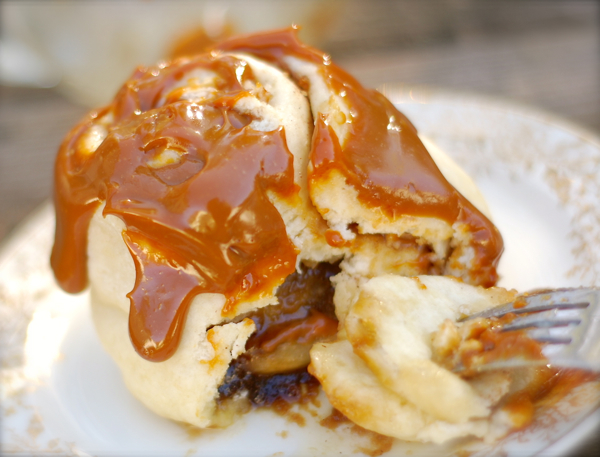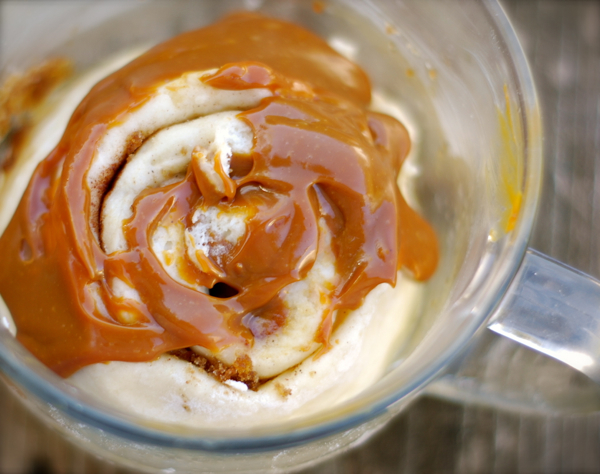 In response to the many requests I received from my readers, I made a three minute caramel roll in a mug today! Everyone went bonkers over my three minute cinnamon roll, so here ya go!
This is especially rich with loads of real butter and ooey gooey caramel. The brown sugar, cinnamon, and butter on the inside create caramel and I add a big drizzle of Mexican dulce de leche just before serving (you can find it in cans by the Mexican food in most grocery stores). Feel free to use your favorite caramel sauce.
This really only takes three minutes from start to finish. Don't be tempted to overwork the dough, or to overcook the roll or it will become tough. The roll doesn't really brown, just watch until the dough is no longer sticky. You should never have to cook it for more than 60 seconds.
makes one big caramel roll
9 Tablespoons all purpose flour, plus more for rolling out dough
1 teaspoon baking powder
1/8 teaspoon salt
4 Tablespoons milk
1 to 2 Tablespoons melted butter
2 Tablespoons brown sugar
1/4 teaspoon cinnamon
dulce de leche caramel, or caramel of your choice
Generously butter a large, microwave-safe mug.
Combine the flour, baking powder, and salt in a small mixing bowl. Add milk and mix just until dough comes together. It will be a bit sticky.
Lightly sprinkle flour on work surface. Gently roll dough into long log (about 10 inches or so.) Pat log so it's about 1/4 inch thick and 3 inches wide. It doesn't have to be perfect, so don't worry.
Generously spread butter on strip of dough, and sprinkle approximately 2 Tablespoons of brown sugar, and 1/4 teaspoon cinnamon over the butter. Roll up and place in prepared mug.
Microwave for 45 to 60 seconds. Just until dough is no longer sticky to the touch.
Remove from mug and place on a plate. Drizzle with more butter and as much caramel sauce as your heart desires!
Enjoy!
~Melissa
You may enjoy these related posts: