Print Friendly Version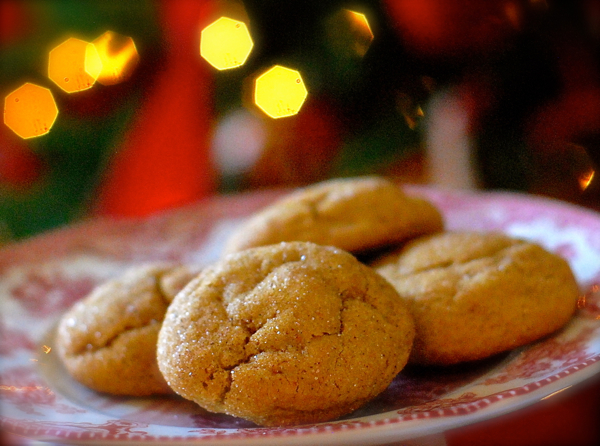 Pumpkin ginger spice cookies meet chewy snickerdoodles in one amazing recipe. I developed this recipe last Christmas and would you believe I never posted it until today? Oh well. Autumn is the perfect time for Pumpkin Spice Gingerdoodles!
for the cookies:
3 and 1/4 cup all purpose flour
3 and 1/2 teaspoons cornstarch
1 teaspoon cream of tartar
1 teaspoon baking soda
1/2 teaspoon baking powder
1/2 teaspoon salt
1 teaspoon cinnamon
2 teaspoons ginger
1/4 teaspoon nutmeg
1/2 teaspoon pumpkin pie spice
1/4 teaspoon cayenne pepper
1/8 teaspoon ground cloves
1 and 3/4 cup brown sugar, firmly packed
1 cup unsalted butter
1 large egg yolk
2/3 cup pure pumpkin puree
2 Tablespoons molasses
1 teaspoon vanilla extract
In a large bowl, mix: flour, starch, cream or tartar, baking soda, baking powder, salt, and all spices. Combine using wire whisk. Set aside.
In another mixing bowl, using an electric mixer, cream butter and brown sugar until light and fluffy. Scrape down sides of bowl using a rubber spatula, if needed. Mix in egg yolk, pumpkin, molasses, and vanilla just until evenly combined. Set mixer to low, and slowly add the dry ingredients to the wet ingredients. Mix until combined. Chill dough for 1 hour. Once hour is up, preheat oven to 350 degrees. F.
for the cinnamon and sugar coating:
1/4 cup sugar
1 and 1/2 teaspoons cinnamon
Mix the cinnamon and sugar coating. Shape chilled cookie dough into golf ball sized balls. Roll in cinnamon and sugar mixture to coat. Transfer to a lightly greased or Silpat lined baking sheet, 2 inches apart. Bake in preheated oven for 12 to 14 minutes, until cookies are golden but not quite firm in the middle. Cool for 5 minutes on baking sheet before transferring to wire racks to cool completely.
Enjoy!
~Melissa
You may enjoy these related posts: