Print Friendly Version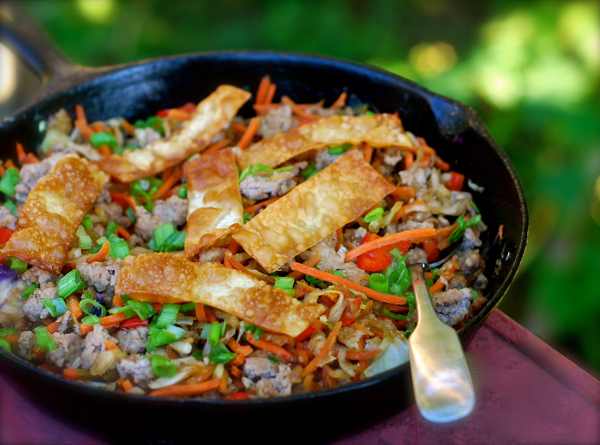 You can use whatever meat you like in your egg roll skillet, or omit the meat and make it for your vegetarian friends. It's so delicious and easy to prepare. I've made it with chicken, beef, turkey, shrimp, and pork. It was awesome every time.
for the sauce:
3 Tablespoons lite soy sauce
2 Teaspoons cornstarch
 3 Tablespoons chicken or vegetable stock
1 Tablespoon dark sesame oil
2 Tablespoons brown sugar
1 Tablespoon hot sauce
1 to 2 teaspoons Chinese 5 spice powder
1 teaspoon ground ginger
1 teaspoon garlic powder
1 teaspoon onion powder
In a small bowl, whisk 1 Tablespoon of the soy sauce with the cornstarch until well blended. Mix in rest of soy, chicken stock, sesame oil, brown sugar, hot sauce, and seasonings. Set aside.
for the skillet mixture:
2 Tablespoons light olive oil
1 lb. lean ground meat (your favorite. This time I used pork)
1 bunch green onions + green tops, chopped fine (save some green for garnish)
1 large, sweet, red bell pepper, seeds and stem removed, coarse chopped
2 Tablespoons fresh ginger, finely grated
4 to 6 large cloves garlic, minced
16 oz. shredded cabbage (I use coleslaw mix)
10 oz. julienne or shredded carrots (2 cups)
fried wonton strips
cooked rice
egg roll sauces (such as sweet & sour, hot mustard, and duck sauce)
Heat 1 Tablespoon olive oil in a very large, heavy skillet over medium-high heat (or use two smaller skillets and make this in two batches.) Add half the ginger and half the garlic to the skillet. Saute for 30 seconds. Add meat. Cook, breaking up meat until done all the way through. Drain if needed. Transfer meat to a large piece of foil and wrap it up to keep it warm.
Heat remaining oil in same skillet over medium-high heat. Add onions. Saute 4 minutes. Add red pepper, rest of ginger, and garlic. Saute for 1 minute. Add cabbage and carrots. Stir. Whisk soy sauce mixture. Pour over cabbage. Stir and allow to cook, tossing frequently, until cabbage and carrots are tender (4 to 5 minutes.) Adjust seasonings. Cover to keep warm.
Make wonton/egg roll stirps: Cut wonton or egg roll wrappers into strips. Fry in hot oil until golden brown and crispy (approximately 30 seconds per side.) Remove to paper towel-lined plate and use as garnish for your eggroll skillet.
Serve in wide, shallow bowls with cooked rice. Garnish with wonton strips and chopped green onion tops. Season with more hot sauce and soy sauce if needed. I like to top ours with a drizzle of sweet and sour sauce!
Enjoy!
~Melissa
You may enjoy these related posts: