Print Friendly Version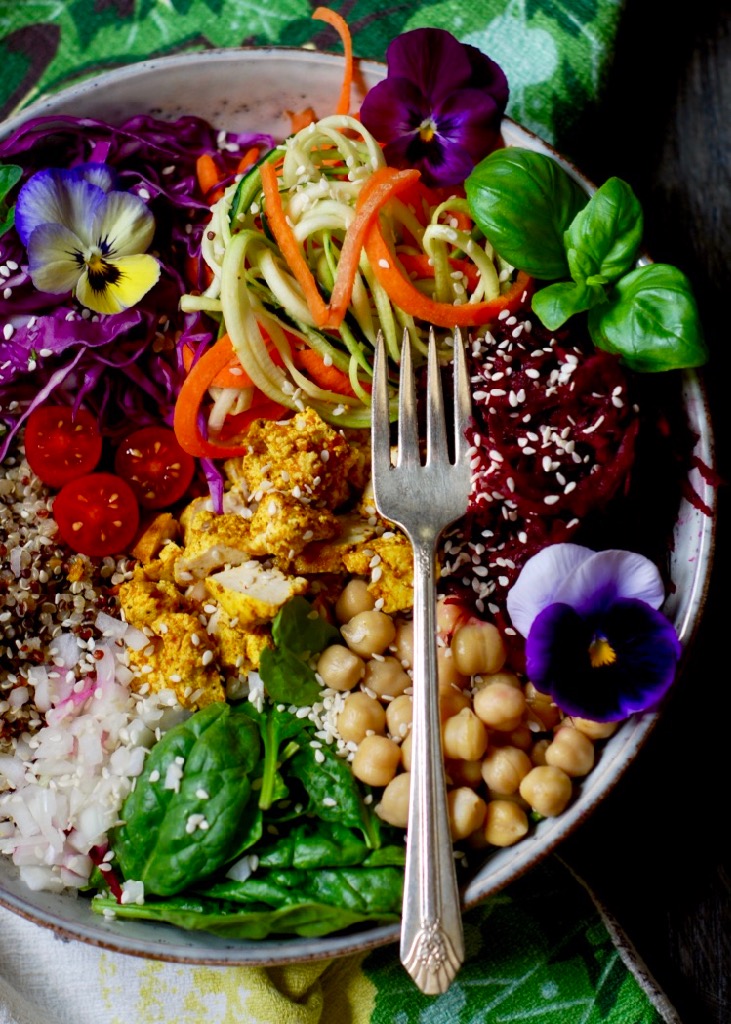 There is something about this grain bowl that reminds me of a combination of walking around the co-op with my parents when I was little and going to an early morning farmer's market. It's loaded with fresh, healthy flavors and sparkling with gorgeous rainbow colors. Maybe it is because of those early co-op memories that this bowl seems nostalgic to me too. Hippie bowl is the perfect name for a bowl like this, wouldn't you agree? I'm not saying you have to pair it with that aggressive, brick-like co-op bread though. If you grew up on co-op bread in the 70's I'm sure you know what I'm talking about. What was with that bread? Dude! It doesn't have to be ALL fiber to be healthy. Calm down. lol…
Anyway, what was I talking about? Oh yes. This bowl. Did I mention the dressing?
I made up a batch of this seriously AMAZING tahini dressing. It's so rich, sort of sweet, garlicky, and delicious, I could eat it with a spoon, standing over the kitchen sink. I'm not saying this happened but I'm not saying it didn't.
You may be tempted to substitute peanut butter or almond butter for the tahini. If you're not in the mood to run to the store for some (expensive, let's face it) tahini, you certainly can substitute, but I'm TELLIN' ya, it's not going to be as good or anywhere near the same. And… if you think you don't like the taste of tahini, I encourage you to give it one more chance by making this dressing. Trust.
Okay, first let's make the dressing so you can start it chilling in the fridge.
for the flower child tahini dressing:
(this makes enough to top 4 grain bowls)
1/2 cup tahini sauce
2 heaping Tablespoons nutritional yeast
1/4 cup finely chopped onion
1 large clove garlic, minced
1/4 cup seasoned rice vinegar
2 Tablespoons lite soy sauce
juice of 1/2 juicy lemon
2 to 3 Tablespoons pure maple syrup (depending on how sweet you want it)
Zip all in food processor until very smooth and transfer to a canning jar with a tight fitting lid. Refrigerate until ready to use.
for the hippie bowl:
(for 4 grain bowls)
4 cups cold, cooked quinoa or brown rice (or other grain)
4 cups thinly sliced, red cabbage
8 cups spinach or kale, chopped, or left whole if leaves are small
1 large beet, peeled and grated fine or 1 cup sliced pickled beets
2 large carrots, spiralized
2 small zucchini or cucumbers, spiralized
6-10 cherry or grape tomatoes, halved
2 cups cold tofu scramble or cooked tofu, chopped into bite size pieces
2 cups canned chickpeas, drained and rinsed
1 ripe avocado, cut into thin slices and fanned out
sesame seeds, fresh herb sprigs, and edible flowers (garnish)
hot sauce (optional)
Divide all ingredients equally among 4 wide, single serving bowls. Garnish, drizzle dressing over, and serve.
Note: When serving, invite your guests to tear the fresh herbs into little pieces all over the top of the bowl. Such great flavor!
Enjoy!
~Melissa
You may enjoy these related posts: