Print Friendly Version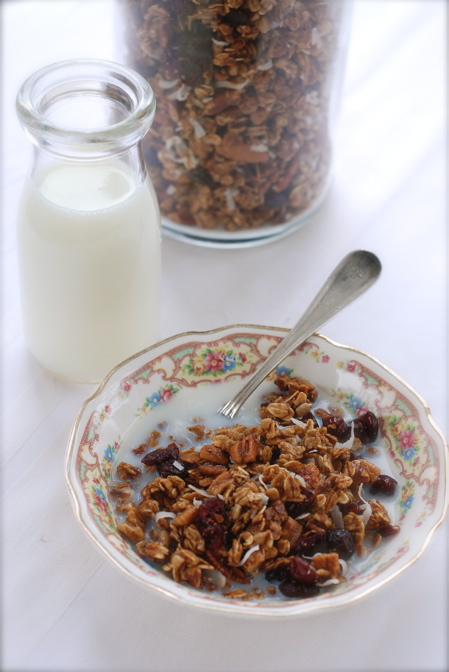 ~ granola ~
"I went to a cafe that had a sign advertising 'breakfast anytime,' so I ordered French toast during the Renaissance." ~Stephen Wright
Ready for some of the best granola you've ever had? Then you've come to the right place. This is everything granola should be. Super crunchy, just sweet enough, with the chewy tanginess of dried cranberries and the yummy finish of toasted coconut. We're having this for breakfast this cold, snowy Minnesota morning. What's in your cereal bowl?
preheat oven to 325 degrees F.
5 cups old fashioned rolled oats
3 cups coarsely chopped pecans
1 cup sunflower seeds
1 cup dark brown sugar
2 teaspoons cinnamon
1 teaspoon dry ginger
2 teaspoons sea salt
1 teaspoon nutmeg
3/4 cup unsweetened applesauce
1/3 cup maple syrup
1/4 cup clover honey
3 Tablespoons olive oil
6 oz. dried cranberries
2 and 1/2 cups toasted sweetened coconut
In a very large mixing bowl, mix oats, pecans, sunflower seeds, brown sugar, cinnamon, ginger, salt and nutmeg.
In a small saucepan, warm the applesauce, maple syrup, honey and oil. Combine the applesauce mixture with the dry mixture until completely incorporated and everything is evenly mixed. Divide the granola between two large jellyroll pans. Bake for 45-55 minutes, stirring every 10 minutes until the granola is a deep golden brown. Remove from oven. Cool completely. Mix in dried cranberries and toasted coconut. Store in a large, airtight container. Keeps up to one month.
Happy breakfast to you!
~Melissa
You may enjoy these related posts: