Print Friendly Version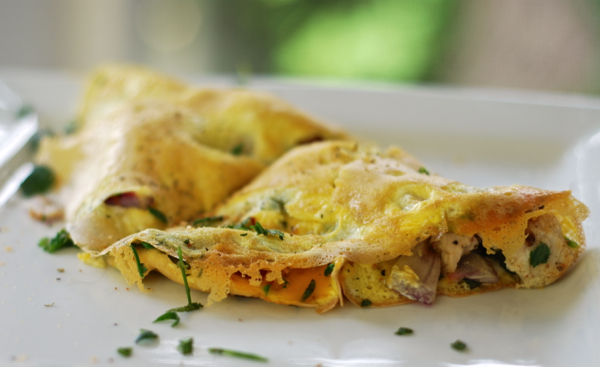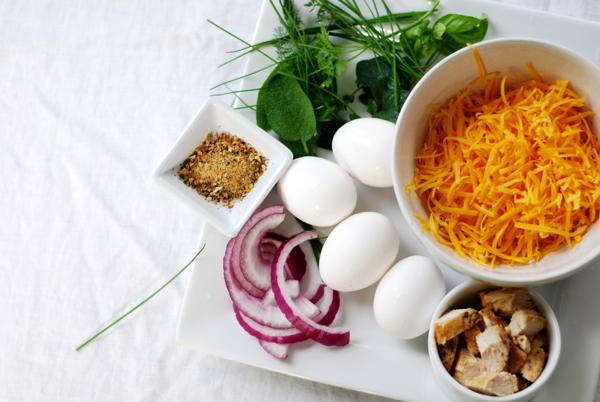 The key to a wonderful omelette is to use a good quality non-stick skillet and fresh organic ingredients whenever possible. I made this delicious omelette in about 10 minutes and it was so yummy, I just had to share it with you. I love inventing new ways to use the fresh herbs from my herb garden, and they add so much personality and freshness to this breakfast entree. I think you're going to love this.
Assemble all of your ingredients before you start so you're not running around the kitchen looking for ingredients while the omelette is cooking. Use two eggs for a single serving omelette or 4 eggs if you're making an omelette to share.
2 to 4 eggs
fresh herbs (I used basil, sage chives, parsley, thyme and cilantro)
purple onion, coarse chopped
extra sharp cheddar cheese, grated (or your favorite)
grilled, chilled chicken, cut into chunks and warmed a little
Trader Joe's "21 Spice Salute"
salt and pepper to taste
2 teaspoons olive oil for the pan
Finely chop the herbs. Heat the olive oil in the skillet and roll it around in the bottom of the pan so the entire bottom is coated. Beat your eggs along with a Tablespoon of water for every two eggs used. Pour the eggs into the hot pan, shifting the pan around so the eggs evenly cover the bottom. Place the skillet back on the burner and adjust the heat to a medium temperature. When the eggs are almost done cooking (almost dry on top), sprinkle the filling ingredients evenly over the eggs. When the cheese is melted, fold omelette in half using a spatula. Transfer omelette to a serving plate and serve. We love ours drizzled with a little Sriracha hot sauce or balsamic ketchup (one part good quality balsamic vinegar to two parts ketchup).
Enjoy!
~Melissa
You may enjoy these related posts: