Print Friendly Version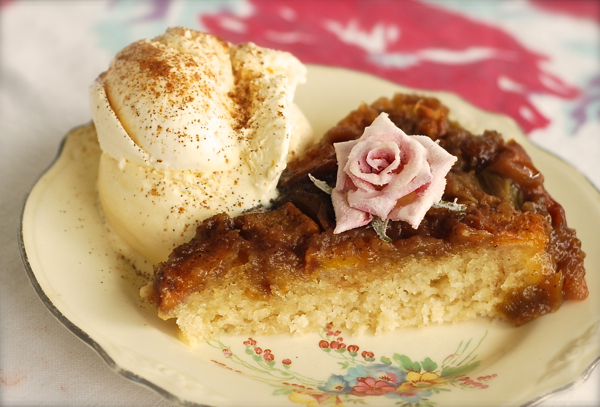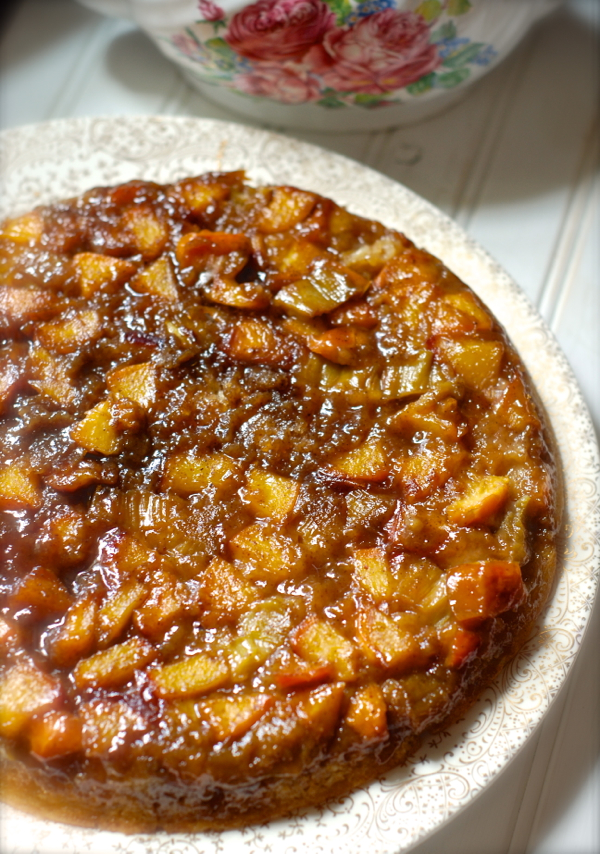 Oh my…what a lovely day spent with family. My grandparents (Darling and Papa) drove down from the Twin Cities  for my grand girl Chloe's birthday party today. We certainly had a full house. For lunch, picnic fare: Fried chicken, potato salad, tea sandwiches, Caesar salad, pickles and olives, Arnold Palmers…and birthday cake, of course! So after all of the cooking, photo taking, eating, present opening and conversation, I'm a little worn out. Ready to enjoy a relaxing evening on the deck with Jeff and Gracie.
Before I head outside I'm going to share an easy, delicious way for you to use up some of your rhubarb (if you have any.) If you don't, no worries. Just substitute another half cup of the peaches for the rhubarb….or maybe some raspberries? Hmmmmm….that would be good too.
~ preheat oven to 350 degrees F. ~
8 Tablespoons butter, divided
3/4 cup brown sugar
3 peaches, cut into chunks
1/2 cup rhubarb, cut into chunks
1 and 1/4 cup AP flour
2/3 cup sugar
2 teaspoons ginger
1/2 teaspoon cinnamon
1/4 teaspoon cloves
2 teaspoons baking soda
1/2 teaspoon salt
1 cup buttermilk
1 teaspoon pure vanilla extract
Melt the butter and set aside 2 Tablespoons. Place the other 6 Tablespoons in a 10 inch cast iron skillet. Mix the peaches, rhubarb, ginger, cinnamon and cloves together and sprinkle the fruit evenly over the melted butter in the skillet. Sprinkle the brown sugar evenly over the fruit. Place the flour, sugar, soda, salt, buttermilk, remaining 2 Tablespoons melted butter and vanilla in a mixing bowl. Mix well with a wire whisk until evenly combined. Pour the batter over the fruit. Bake at 350 degrees F. for 25 to 30 minutes, or until cake is golden and completely set. Cool cake for 5 minutes before carefully inverting it over a cake plate and removing it from skillet. Serve with ice cream or fresh whipped cream!
Enjoy!
~Melissa
You may enjoy these related posts: