Print Friendly Version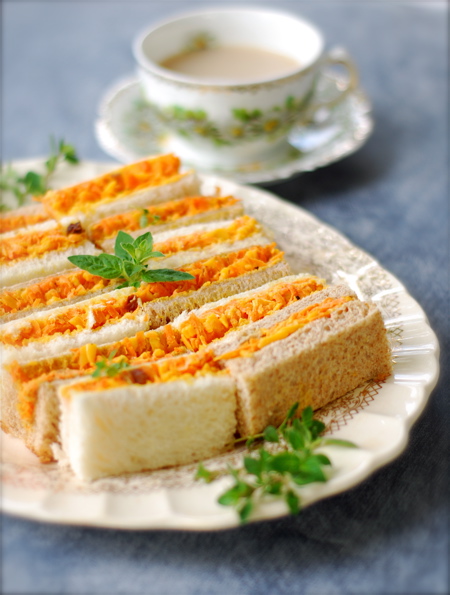 ~ carrot cheddar curry tea sandwiches ~
Today I made some of our favorite tea sandwiches for teatime. Carrot cheddar curry. We made these little sammies at both of the tearooms where I was employed, and everyone loved them! The mincemeat is my addition, and I think it makes these sandwiches even more wonderful. If you don't have mincemeat, leave it out…or substitute a little chopped green apple and  some raisins or sultanas. These little treats are creamy-crunchy, sweet and tangy, with just a hint of curry. They are wonderful with any black tea, but particularly good with a cup of Darjeeling.
10-12 slices of white or wheat sandwich bread
2 large carrots, peeled and grated
1 cup grated sharp cheddar cheese
1 heaping Tablespoon mincemeat pie filling
2 heaping Tablespoons real mayonnaise
1 teaspoon sweet curry powder
salt and freshly ground black pepper
Combine all of the ingredients for the filling, and adjust seasonings if needed. Make sandwiches. Cut off the crusts and cut into finger sandwiches or triangles. Arrange on a pretty platter or tiered sandwich server with other teatime treats. Garnish with edible flowers or fresh herbs if you wish.
Enjoy!
Happy TeaTime Tuesday!
~Melissa
You may enjoy these related posts: