Print Friendly Version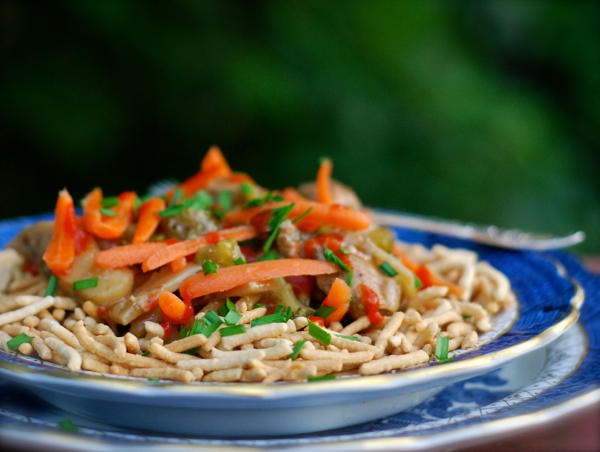 Chow mein just got even easier! Whoo hoo! A delicious, simple recipe for slow cooker chow mein. Forget take out, and make this for your family instead.
Purchasing already made pouches of rice makes this recipe even easier! Just heat according to package directions and serve alongside your chow mein.
~ serves 6 people ~
1 medium onion cut into thin wedges
1 small red bell pepper, stem and seeds removed, coarse chopped
4 large cloves garlic, minced
1 Tablespoon sesame oil + more for drizzling
2 lb. pork arm steak cut into cubes OR pork stewing meat
2 Tablespoons fresh ginger, finely grated
2 teaspoons Chinese five spice powder
1/4 teaspoon cayenne pepper (or to taste)
1 (8 oz.) can sliced water chestnuts, drained very well
1 (8 oz.) can bamboo shoots, drained very well
2 medium ribs celery, sliced
12 oz. frozen stir fry veggies (I like a blend with sugar snap peas, broccoli, and baby corn)
1/3 cup teriyaki sauce
1/2 cup chicken stock/broth
5 Tablespoons quick cooking tapioca
crunchy chow mein noodles
3 cups cooked rice (brown or white)
soy sauce
chives OR green onion tops, for garnish
julienne carrots (garnish)
hot sauce
Saute onion and pepper in the sesame oil until tender and translucent (approximately 5 minutes.) During last 30 seconds of cooking time, add the garlic. Cook until fragrant. Add this onion mixture to a 4 to 8 quart slow cooker. Stir in: pork chunks, ginger, spices, water chestnuts, bamboo shoots, and celery. Cover and cook on LOW for 8 hours or HIGH for 4 to 5 hours. Once done, turn slow cooker to high (if you were cooking on low up until this point.) Add: the frozen veggies, teriyaki sauce, stock, and tapioca. Stir to mix well. Cover and cook an additional 15 to 30 minutes, or until sauce has thickened a bit, and everything is hot and cooked through. Serve over crunchy noodles and rice. Garnish with snipped chives, julienne carrots, and season to taste with soy sauce and hot sauce. Drizzle a little more sesame oil over the top if you wish.
Enjoy!
~Melissa
You may enjoy these related posts: