Print Friendly Version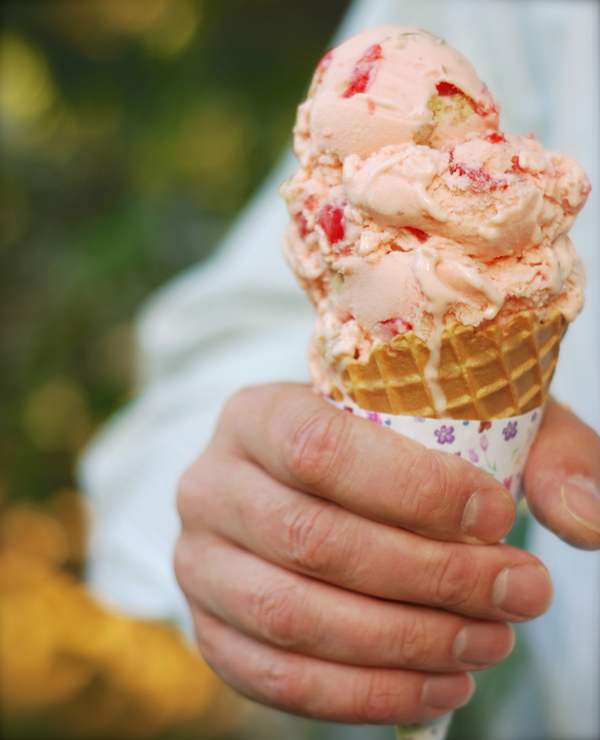 I remember getting a rainbow cone at the Minnesota State Fair every summer ever since I was a little kid. It's such a pretty treat with all of those amazing colors, but my favorite part of this ice cream is a flavor called Palmer House. Palmer House ice cream was originally created for The Palmer House Hotel in Chicago. Isn't that romantic? When I decided to make my favorite ice cream I was so disappointed that I couldn't find a recipe for it, and that the historic hotel no longer serves it. What a shame. I actually have no idea when they stopped, but I've dreamed of visiting the hotel and ordering a cone or perhaps a tulip glass filled with it. Sigh. I'm glad I didn't make a special trip.
Anyway, I've enjoyed the ice cream several times in the rainbow cone, and once in awhile an ice cream shop will offer it (it was good with almonds although the original included walnuts.) So I know what it tastes like, and I was pretty sure I could duplicate it. I was surprised and delighted that I got it right on the first attempt.
I'm happy to present you with this beautiful ice cream! it's the prettiest pink ice cream I've ever seen, and it's definitely the best version of "cherry nut" that I've ever tasted.
I hope you love it as much as I do!
3 cups heavy whipping cream
3 cups whole milk
1 cup white sugar
10 oz. maraschino cherries + cherry syrup from jar
8 large egg yolks
1/2 teaspoon pure almond extract
1 teaspoon pure vanilla extract
1 cup coarsely chopped walnuts
Stir cream, milk, sugar, and cherry syrup from jar in a large saucepan over medium heat. Stirring constantly, bring to simmer. Remove from heat.
Place yolks in a large mixing bowl. Whisk in some of the hot cream mixture, 2 Tablespoons at a time, until you've added 2 cups. Whisk constantly and work quickly so the eggs don't get a chance to set. Once you've whisked in the 2 cups, return this yolk mixture to the pot on the stove. Turn heat on under burner, so you have a very low flame. Whisk constantly until the mixture is thickened enough to coat the back of a metal spoon, (approximately 10 to 12 minutes.)
Once thickened, remove from heat. Place on a wire rack on counter and allow to cool a bit before placing in the refrigerator. Chill in a covered container overnight (or for at least 8 hours) before proceeding to the next step.
When you're ready to make your ice cream, chop the maraschino cherries and walnuts. Add them to the ice cream mixture along with the flavor extracts. Mix well. Pour half of this mixture into the ice cream maker and process according to manufacturer's directions. (It only takes my Cuisinart 20 minutes to make a batch of soft serve.)
Place this first batch of ice cream in a covered freezer container and freeze for at least 2 hours before scooping out and serving. Working quickly, process the second half of the ice cream mixture in the ice cream maker (it won't set up quite like the first batch but it will be okay.)  Place this in a covered freezer container as well.
Makes approximately 2 and 1/2 to 3 quarts.
Enjoy!
~Melissa
You may enjoy these related posts: