Print Friendly Version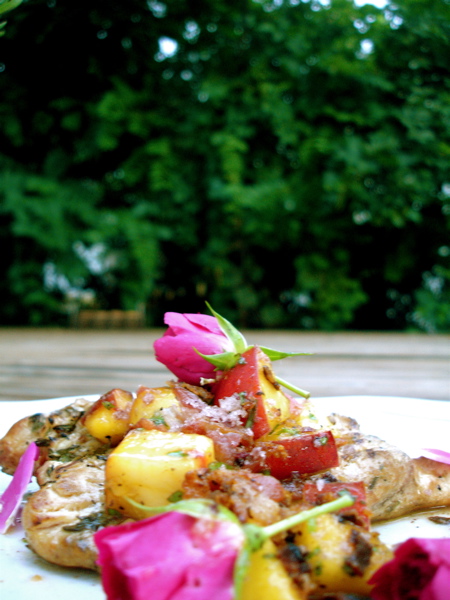 ~love & nectarines grilled chicken~
My balsamic strawberry chicken was such a success, I thought I'd try making another grilled chicken dish featuring fruit this week. The peaches and nectarines have been perfect this summer, and I had a couple left over after making my rose geranium cake. So, I got to work creating a recipe for nectarine chicken. Jeff gave it rave reviews!
marinade:
3 Tablespoons olive oil
1 Tablespoon toasted sesame oil
1/4 cup dry white wine
1 Tablespoon white Worcestershire sauce
1/4 cup fresh thyme, chopped fine
Place 4 boneless, skinless chicken breasts in marinade.
Pierce the meat all over with a sharp knife.
Cover and place in refrigerator for at least 2 hours.
Grill over charcoal.
nectarine salsa:
2 ripe nectarines, cubed
1/2 cup fresh basil, chopped
1/4 cup rose miel OR clover honey
2 Tablespoons raspberry vinegar
1/8 teaspoon allspice
1/8 teaspoon cinnamon
1/8 teaspoon nutmeg
1/8 teaspoon ginger
1/8 teaspoon sweet curry
dash of cayenne
dash of cloves
Combine all salsa ingredients.
Set in refrigerator to chill.
Pour over the chicken when ready to serve.
garnishes:
pesticide-free rose buds and rose petals
a light sprinkling of coarse sel de rose (salt)
a little crumbled bacon
If you wish, serve this beautiful chicken dish with…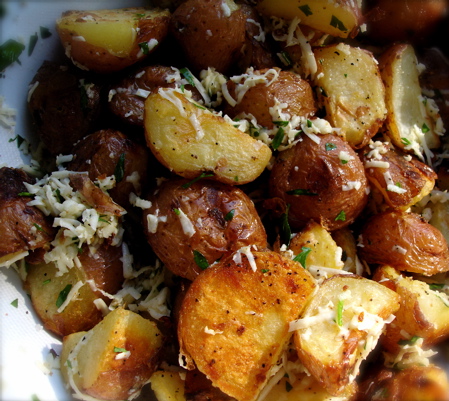 ~asiago oven-roasted potatoes~
I used THIS RECIPE
and they turned out wonderful!
Enjoy!
~Melissa
You may enjoy these related posts: