Print Friendly Version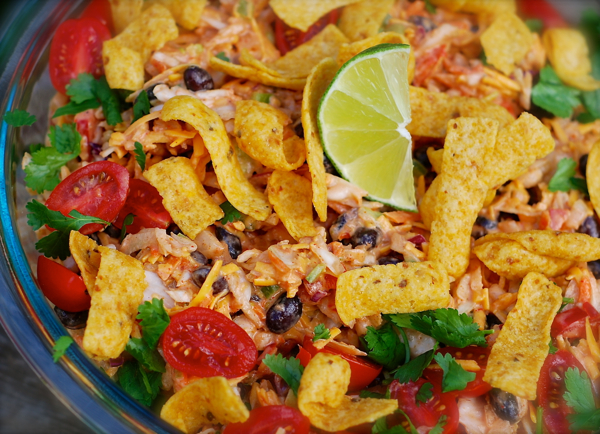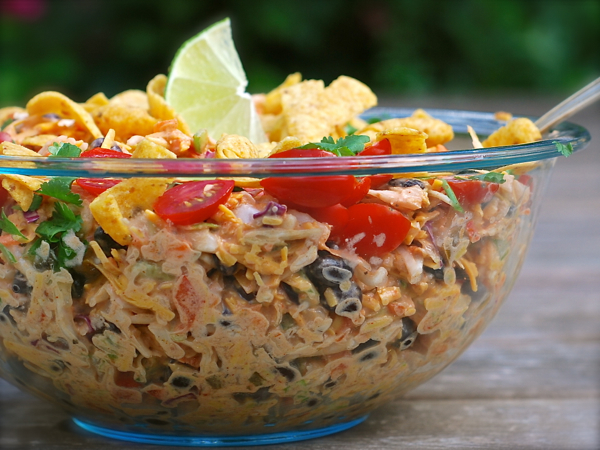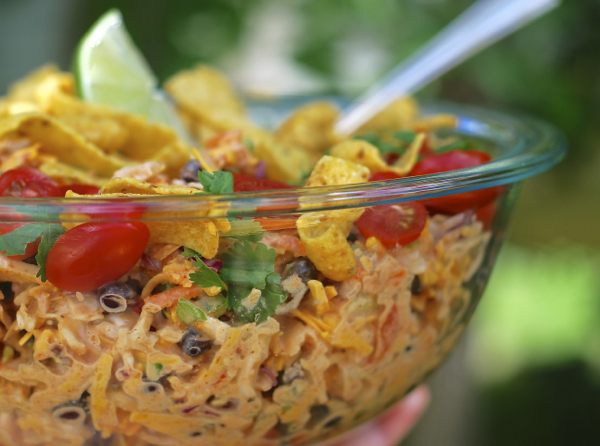 This is a wonderful new twist on the classic taco salad! We love it because it's much crunchier than the classic salad, and the shredded coleslaw doesn't wilt like iceberg lettuce does. It holds up much longer for picnics and potlucks. Crunchy Taco Coleslaw is great as a side salad, but could easily become a main course by adding a little cooked, chilled chicken. It's amazing on tacos too!
for the salad:
1 lb. coleslaw mix
1/3 cup finely chopped onion
3/4 cup chopped red bell pepper
2 jalapeno peppers, seeds and stems removed, chopped fine
1 (15 oz.) can black beans, drained and rinsed very well
8 oz. shredded sharp cheddar cheese
a handful of grape tomatoes, halved
chopped fresh cilantro
Fritos (or your favorite corn chips)
homemade salsa dressing (recipe below)
Place slaw mix, onion, red pepper, jalapenos, black beans, and cheddar in a big mixing bowl and mix until evenly combined. Set aside while you make the dressing.
Note: If you don't have all the spices the dressing calls for, 1 to 2 Tablespoon(s) of pre-made taco seasoning will work instead.
for the dressing:
1 cup of your favorite salsa
1 cup real mayonnaise
hot sauce, to taste
cayenne pepper, to taste
1/2 teaspoon onion powder
1/2 teaspoon garlic powder
1 teaspoon cumin
1 teaspoon chili powder
1 teaspoon dry oregano
Whisk all dressing ingredients together until smooth. Pour over salad. Toss gently to combine. Transfer to a pretty salad bowl. Top with the halved grape tomatoes, some chopped cilantro, and some Fritos. Serve. Pass the bag of Fritos around the table so people can add more if they wish.
Enjoy!
~Melissa
You may enjoy these related posts: