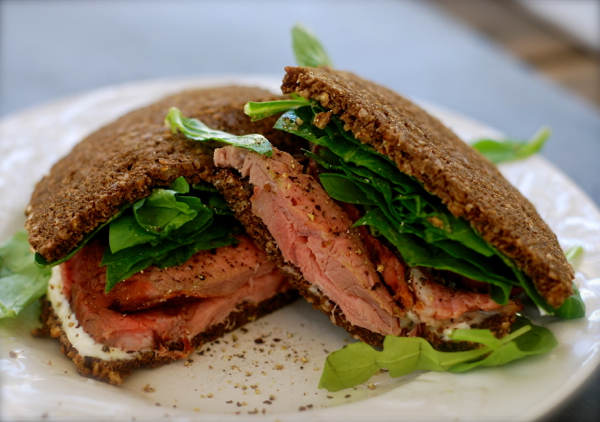 I made these for an impromptu lunch date with a friend a couple weeks ago. It was one of those serendipitous occasions when I happened to have the perfect ingredients in the refrigerator. You might think that the steak is the absolute star of the show in this sandwich scenario. In my opinion, a sandwich that has a great cut of meat between two slices of deliciously toasted bread is still just a "good" sandwich. The toppings and contrasting flavors that compliment the bread and meat are what make a sandwich truly great. I'm not saying the ingredients have to be fancy or pretentious to be fabulous. They just have to work well together. Intrigued? Read on…
for one awesome steak sandwich on rye:
2 slices pumpernickel rye bread, lightly toasted
a little butter
2 teaspoons mayonnaise
1/2 teaspoon prepared horseradish sauce
1 Tablespoon crumbled Gorgonzola or blue cheese
rare steak, chilled and cut into thin slices
sea salt and freshly ground black pepper, to taste
spring greens or arugula
1 Tablespoon mango chutney or apricot preserves
1/2 teaspoon Dijon mustard
Toast bread to your liking. Lightly butter each slice of toast. In a small ramekin, combine the mayonnaise, horseradish and Gorgonzola. Spread this mixture on one of the pieces of toast. Top with the rare steak slices. Salt and pepper to taste. Top with the spring greens/arugula. In another small ramekin, combine the chutney and Dijon. Spread this on the other slice of toast and top the sandwich with it. Slice sandwich in half, on the diagonal. Serve with your favorite potato chips.
Enjoy,
~Melissa
You may enjoy these related posts: