Print Friendly Version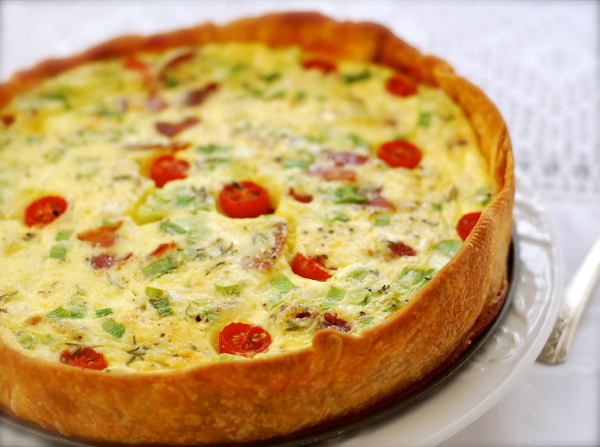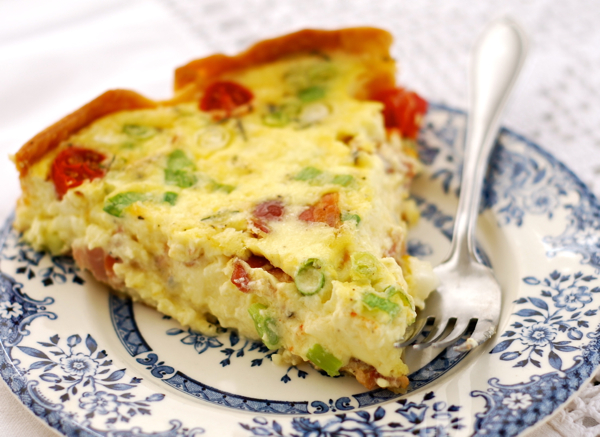 This time of year reminds me of working at the tearoom and making soups, salads, scones and quiches with fresh, delicious ingredients. We mostly made crustless quiche there, and although it's amazing in it's own way, today I was craving a more traditional quiche with a flaky pastry crust and a silky, creamy interior. This came out perfect the first time! You can either use your own recipe for homemade pie crust, my recipe for cream cheese pie crust, or… cheat a little and just buy pre-made pie crust dough at the grocery store. Pillsbury makes a great one, and nobody will know the difference. They really won't. Feel free to use 1 cup of chopped, cooked ham in place of the bacon, if you wish.
enough pie crust for single crust pie, rolled to 1/8 inch thickness
8 oz. Swiss cheese, shredded
6 large eggs
1 cup heavy whipping cream
1 cup whole milk
1 teaspoon onion powder
1/2 teaspoon garlic powder
1/2 lb. bacon, fried until crispy and cut into 1 inch pieces
4 green onions + green tops, sliced thin
8 grape tomatoes, halved
freshly ground black pepper
1 Tablespoon fresh thyme leaves
Fit pie crust dough into a 10 inch springform pan. Trim edges if needed. Save scraps.
Place crust in freezer for 30 minutes.
Preheat oven to 400 degrees F. Line frozen crust with cooking parchment. Fill with pie weights or dried beans. Bake for 20 minutes. Remove weights and parchment. Cool crust completely before filling. If there are any little holes or cracks in your crust, patch them with little bits of the leftover pie crust scraps.
Reduce oven temperature to 375 degrees F. In a large mixing bowl, whisk eggs, cream, milk, onion powder and garlic powder. Stir in shredded cheese. Pour this custard/cheese mixture into prepared crust. Don't over-fill (You'll want about 1/4 inch of crust bordering the top so the quiche doesn't spill out the sides as it rises and bakes.)
Top evenly with bacon, green, onion, tomatoes and thyme. Top with a sprinkling of freshly ground pepper.
Bake at 375 degrees F. for 10 minutes. Reduce oven temperature to 325 degrees and bake an additional 30 to 40 minutes or just until top is golden brown and the middle of the quiche is completely set. Remove from oven and allow to cool for an hour before removing from springform pan, slicing and serving.
Enjoy!
~Melissa
You may enjoy these related posts: