Print Friendly Version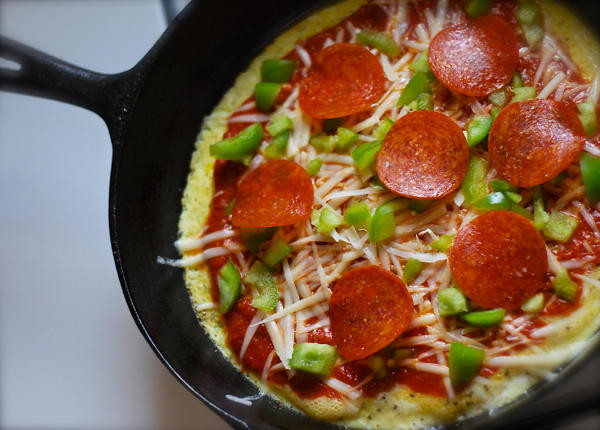 Here's an awesome recipe to try when you're craving pizza for breakfast! It's also a fun recipe for my Paleo friends to try; Just crumble a little yogurt cheese on it after it's plated and skip the mozzarella.
for one pizza omelette:
2 large eggs + 1 Tablespoon chopped onion + 1 Tablespoon water, beaten
1 Tablespoon grassfed butter
1 Teaspoon fresh, minced garlic
1/4 cup pizza sauce (spaghetti sauce or marinara will work)
1/4 cup (or more) shredded Mozzarella cheese
1/4 cup chopped veggies (I used green pepper)
7 slices of pepperoni OR crumbled, cooked sausage (or both)
Beat eggs, chopped onion and water in a small bowl. Heat butter in a well-seasoned cast iron skillet (or a nonstick skillet.) Once melted, spread it around so it coats the bottom of the pan. Once hot, add the egg mixture and tilt pan so the bottom is evenly coated with the egg mixture. Turn heat down to medium-low. Sprinkle garlic over the top and allow eggs to cook until almost completely set. Spread pizza sauce over top and sprinkle on the cheese and veggies. Top with the pepperoni/sausage and cook until cheese is melted. Slide omelette onto a plate and serve open faced or folded.
Enjoy!
~Melissa
You may enjoy these related posts: