Print Friendly Version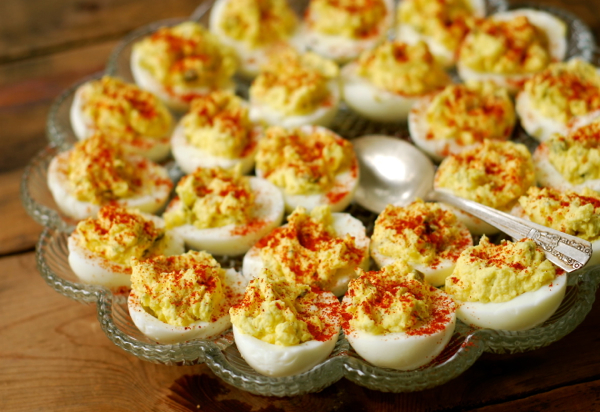 We made a big batch of these for our Labor Day picnic this past weekend. This is a tried and true recipe that I've made hundreds of times and it's SO good. I make my classic deviled eggs a bit differently than most people do. I don't use pickle relish because I think it makes the egg filling too runny. Instead, I use chopped sweet pickle that has been drained very well. This one tweak makes all the difference.
1 dozen large eggs, hard boiled and cooled
1/4 cup real mayonnaise (or Miracle Whip, if you wish)
1/4 cup well drained bread and butter sweet pickles, chopped fine
1 Tablespoon finely chopped onion
2 teaspoons prepared yellow mustard
salt and pepper, to taste
regular or smoked paprika
Once eggs have been hard boiled, cool them a bit and carefully peel them. Cut eggs in half, lengthwise. Remove yolks and transfer them to a small mixing bowl. Place egg white halves on a pretty serving plate.
Mash yolks well with a fork. Add mayonnaise, sweet pickles, onion, and mustard. Mix well. Salt and pepper to taste. Add a little more mayonnaise, if needed. Divide filling evenly among the egg white halves. Sprinkle tops with regular or smoked paprika. Serve immediately or cover and chill until ready to serve. These are best when enjoyed the same day as they're prepared.
Enjoy!
~Melissa
You may enjoy these related posts: