Print Friendly Version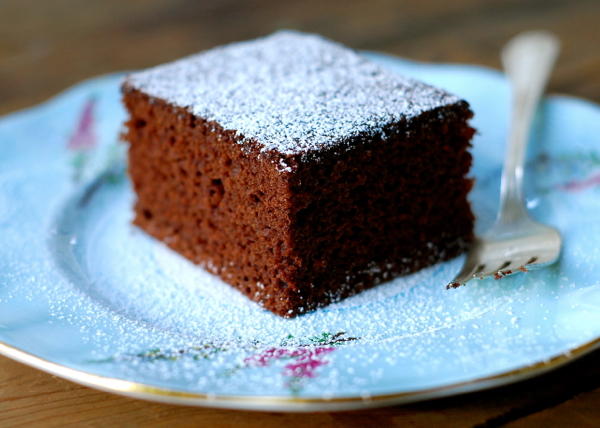 Here's a recipe for a chocolate cake that is ridiculously easy to make, and incredibly moist and delicious. I love using mayonnaise in my baked goods. It makes the absolute BEST banana bread on the planet, and it's equally good in this chocolate cake! Try it for yourself and see.
~ preheat oven to 350 degrees F. ~
2 cups sifted all purpose flour
2/3 cup sifted unsweetened cocoa powder
1 and 1/4 teaspoons baking soda
1/4 teaspoon baking powder
1/4 teaspoon sea salt
3 large eggs, lightly beaten
1 and 2/3 cup white or brown sugar
2 teaspoons pure vanilla extract
1 cup real, full fat mayonnaise
1 and 1/3 cups water
powdered sugar for topping
Oil and flour a 9×13 glass baking dish. In a large mixing bowl, combine: flour, cocoa powder, baking soda, baking powder and salt. Set aside.
In the bowl of a counter top mixer, combine: eggs, sugar and vanilla. Using whisk attachment, beat for 3 minutes on the high setting. Add mayonnaise. Beat on low until blended evenly. Add half of the dry ingredients, mix in. Add half of the water, mix in. Add remaining dry ingredients and water. Mix until well blended. Pour into prepared baking pan. Bake for 30 to 40 minutes, or just until a toothpick inserted into the center of the cake comes out with a couple moist crumbs on it. Don't over bake. Keep cake in pan. Cool completely on a wire rack. Sprinkle top with a little powdered sugar, or frost it if you wish. Cut into squares and serve. Serves approximately 12 to 24 people.
Enjoy!
~Melissa
You may enjoy these related posts: