Print Friendly Version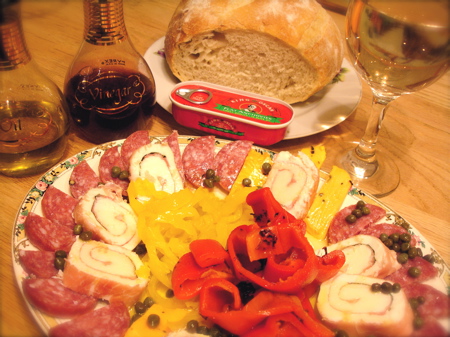 photograph by Melissa Placzek
What is antipasto?… "means "before the meal" and is the traditional first course of a formal Italian meal. Some have compared antipasto to hors d'oeuvres, but there are several distinctions. Hors d'oeuvres are served while guests are still standing, and tend to be served off trays in the most formal settings, or placed on a table. They are enjoyed with drinks prior to the meal. On the other hand, antipasto is served at the table and signifies the beginning of the Italian meal. Most table settings will feature a central antipasto plate, and small plates for each diner to enjoy this warm-up to the other courses." ~WiseGeek
What's the difference between antipasto and cicchetti? "
Cicchetti (pronounced chi-KET-tee) (also sometimes spelled "cichetti" or "cicheti") are small snacks or side dishes, typically served in traditional "bàcari" (cicchetti bars in Venice Italy) Common cicchetti include tiny sandwiches, plates of olives or other vegetables, half hard boiled eggs, small servings of a combination of one or more of seafood, meat and vegetable ingredients laid on top of a slice of bread or polenta and very small servings of typical full-course plates. Like Spanish tapas, one can also make a meal of cicchetti by ordering multiple plates. Venice's many cicchetti bars are quite active during the day, as Venetians (and tourists) typically eat cicchetti in the late morning, for lunch, or as afternoon snacks. Cicchetti are usually accompanied by a small glass of local white wine, which the locals refer to as an "ombra" (shadow).
Cicchetti is the plural form. A single piece of cicchetti is a cicchetto. " ~Wikipedia
~Antipasto~
Arrange the following on a pretty serving platter:

Rolled, fresh Mozzarella cheese, Prosciutto & basil
Tuscan Salami
Aged, extra sharp cheddar
Fire roasted red peppers
pepperoncini
capers
anchovies
extra virgin olive oil
splash of white wine
crusty, Italian bread
Enjoy with a glass of your favorite wine!
XO,
Melissa
You may enjoy these related posts: