Print Friendly Version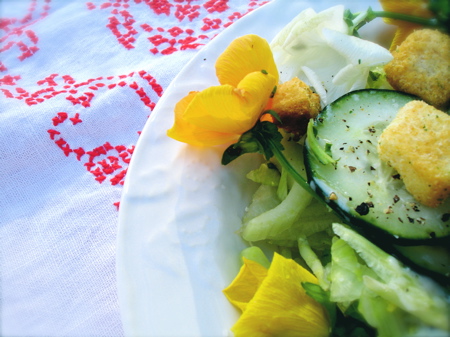 I would like to welcome my friend, and newspaper columnist for the Rochester Post Bulletin, back to ChinDeep! She has some fun, delicious tips and a recipe to share with us.
EDIBLE  FLOWERS~
Use edible flowers in your cooking and salads and your guests and family will think you're a gourmet cook! In the past few years or so, farmers markets, gardening books, magazines, food networks and restaurants have been promoting flower eating.  This is not really a new idea.  Written history states that the eating of blossoms goes back as far as the time of ancient Greeks and Romans.
The flowers  listed below can be sprinkled in moderation on salads, soups or simply used to garnish the plate.  Always check carefully for insects and dirt, but try not to wash the flowers.  They will bruise and tear easily and will not look very appetizing.  If necessary, soak them gently in cold water, drain and serve.
Carnations or Clove Pinks
The clove-flavored petals can be added to custards, muffins, fruit punches, other beverages and desert sauces.  Whole blooms are excellent garnishes.
Chrysanthemum
Used in Chinese cuisine for centuries.  A few brightly colored petals can garnish a stir-fry, soup or salad.  The blooms are pungently favored.  Use just a few petals in food preparations.
Hollyhock
This old-fashioned, cottage garden looking-flower with the bright petals adds a mild flavor to salads.  Whole flowers make appealing garnishes.
Marigolds
The lemon or tangerine gem series are the only varieties suitable for culinary use.  Add petals to salads, soups, sauces, marinated vegetables and pilafs.  Whole blossoms are best for garnishes.
Nasturtium
A peppery-water-cress taste with a floral fragrance. The nasturtium can add a desirable flavor to your foods. Use the chopped petals in herb butters, cheese spreads, dips, sandwiches, omelets, sauces, salads and rice pilafs.  The seedpods picked while still green are frequently pickled and used as a substitute for capers.
Pansies
Pansies, Johnny-jump-ups and violas have a lightly sweet taste that will remind you of a mildly fragrant lettuce.  They make beautiful and charming garnishes.  Press the blossoms into the frosting of birthday or teatime cakes.
Roses
Rose petals and buds have many uses as a garnish, in jam, syrup, potpourri, sorbet, tea and vinegar.  Clip the flowers above the bitter white heel at the junction of petal and flower center.  Rose hips can be used for jams, syrup or herbal tea and contain 400 times more vitamin C per ounce than oranges.
Sunflower
The large petals make a showy garnish.  Use them as a bed for desserts or vegetable and fruit salads.  Their flavor is mild and unremarkable.
Violets
Violets are sweetly fragrant, petite lavender, white and blue flowers.  The perfume of violets varies with type and growing conditions.  All are useful as a garnish added to salads, floated in soups, or used in jams and vinegars.
Words of caution: Many common garden flowers are poisonous!  They do include: autumn crocus, azalea and rhododendron species, buttercup, clematis, daffodil and narcissus, delphinium, dicentra (bleeding heart), foxglove, hyacinth, iris, lantana, larkspur, lily-of-the-valley, lupine, oleander, poinsettia, flowering sweet-pea and wisteria. Pick only those flowers whose true identity is without question.
Panzanella Tuscan Salad Fresh From The Garden~
This Tuscan salad is simple, refreshing and a wonderful way to use up day-old bread.  Use coarse textured, good quality bread like Italian, French or Sourdough.
This salad is a favorite for high summer when tomatoes are juicy and ripe. You can make this a one-dish meal with the addition of fresh cubed mozzarella cheese, roasted red or green peppers and canned de-boned or cold grilled salmon (break into bite size pieces).
½ Pound country bread cut into ¾ inch thick slices
¼ Cup plus 2 tablespoons olive oil (extra virgin is nice)
3 Large beefsteak tomatoes cut into ¾ inch cubes (about 4 cups)
1   Cucumber, peeled and cut into ¾ inch cubes (about 2 cups)
¼ Cup chopped loosely packed fresh basil, torn into bite-size pieces
2 Tablespoons chopped fresh parsley
1 Tablespoon chopped fresh oregano
1/3 Cup chopped red onion or scallion
2 Garlic Cloves, minced or pressed
1 Tablespoon red-wine vinegar
Salt and freshly ground black pepper to taste
Heat grill to medium.  Brush the bread slices on both sides with 2 tablespoons oil.  Grill until lightly charred on both sides, 3 to 4 minutes.  Let cool slightly, and then cut into large cubes.
In a large bowl combine all the ingredients except the bread cubes and marinate at room temperature for 30 minutes.  The vinegar adds a brilliant ruby color and enhances the flavor of the basil.
At serving time, toss on the bread cubes and the remaining ¼ cup oil, and season with salt and pepper and garnish with a colorful edible flower blossom. Add other ingredients to make this your one-dish meal.
Cooks Note: You can also serve this grilled bread alongside a dish of olive oil for dipping or brushed with olive oil and herbs.  Serves 4 or more.
Enjoy!

Sandy Erdman, nationally known published freelance writer in Minnesota.
Thanks Sandy!
~Melissa
You may enjoy these related posts: