Print Friendly Version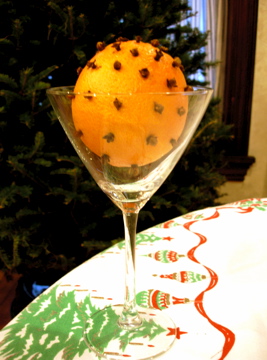 Citrus Pomander
"Christmas – that magic blanket that wraps itself about us, that something so intangible that it is like a fragrance.  It may weave a spell of nostalgia.  Christmas may be a day of feasting, or of prayer, but always it will be a day of remembrance – a day in which we think of everything we have ever loved."  ~Augusta E. Rundel
I've been making fresh citrus pomanders ever since my daughter Andrea was a baby. When she got older, she enjoyed making them with me and it became a fun holiday tradition that we shared.
Pomanders are very easy to make, and I can't imagine Christmas without their citrusy-spice scent perfuming our home. This is a perfect way to enjoy natural aromatherapy in every room during the holidays and beyond.
To make 2 pomanders, you will need:
2 oranges
Toothpick to ease the cloves into the orange
1/4 cup whole cloves
Spice mixture (see recipe below)
spice mixture:
3 Tbs. ground cinnamon
3 Tbs. ground cloves
3 Tbs. ground nutmeg
3 Tbs. ground ginger
3 Tbs. orris root powder (which will help your pomanders dry evenly)
Directions:
Making a Pomander is easy.  Simply stick a clove directly into an orange (or any of the other fruits listed above). You may want to use a toothpick  to make the first punctures so that the cloves are easier to insert.
Once the ball is studded with cloves, roll it in the spice mixture and set it aside for a couple of weeks in a cool dry spot. Once dried, you may want to tie a ribbon around the ball for hanging. Multiple pomander balls also look gorgeous displayed together in a large decorative bowl, and the scent is wonderful! These also make lovely hostess gifts!
Enjoy!
~Melissa
You may enjoy these related posts: