Print Friendly Version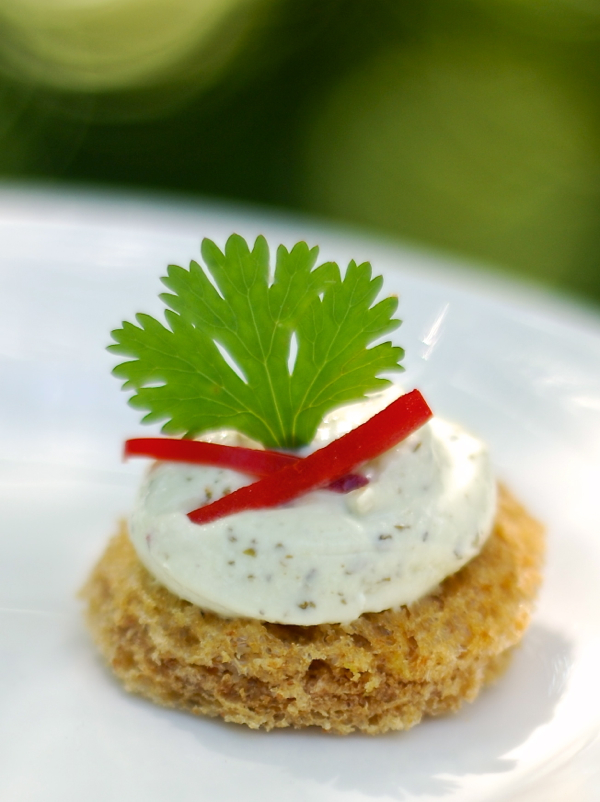 I love the little nibbles and noshes being offered at cocktail parties, tea gatherings and dinner parties this time of year. It's always inspiring to sample and recreate these delicacies in my own kitchen.
This is a savory that I sampled while on location doing a photo shoot for a national magazine a few years back. I've tweaked the recipe to make it my own, and in the process realized that you really could make this a number of different ways that would be fantastic. Use your favorite thin sliced bread, add your favorite herbs and spices, and garnish with whatever you have on hand. I think the parsley and pimento slivers make this look especially Christmasy, which is perfect for this time of year!
40 to 50 appetizers:
8  to 10 pieces thin sliced bread (I used honey wheat)
butter, melted
8 oz. cream cheese, softened to room temperature
1/2 cup sour cream (full fat, no substitutes)
1 teaspoon sea salt
1 teaspoon dried oregano
1 teaspoon onion powder
1/2 teaspoon garlic powder
1/4 teaspoon white pepper
fresh parsley leaves
pickled pimento, sliced into thin slivers
Lightly toast bread slices and brush with the melted butter. Using a 1 inch, circle (or heart, or star) shaped cookie cutter, cut the bread into little shapes. Discard crusts or use them to make croutons.
In the bowl of a counter top mixer, combine the cream cheese, sour cream, salt oregano, onion powder, garlic powder and white pepper. Beat, using the whisk attachment, until smooth and fluffy. Spoon some of the cream cheese mixture into a cake decorating bag. Use whatever tip you wish and pipe the cream cheese mixture onto your bread shapes. Garnish with the parsley and pimento. Serve.
Enjoy!
~Melissa
You may enjoy these related posts: