Print Friendly Version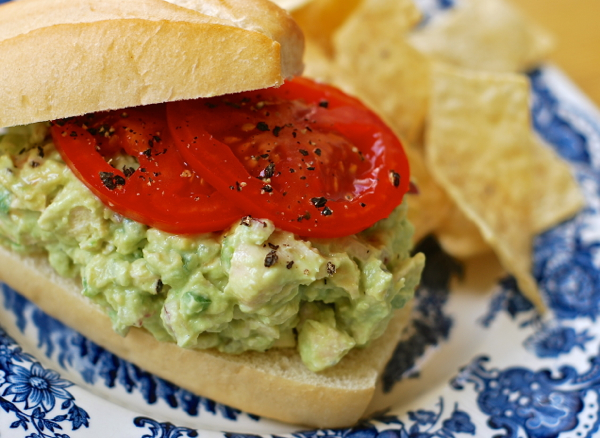 We've had days and days of 90 degree weather. I don't like it. Too darn hot! I want to be able to go outside and not feel like I'm going to melt within 10 seconds of being out there. I want to be able to sit on a blanket in the shade and feel a cool breeze as I read. Or, to lay in our hammock and sip iced tea. Not happening this week, I'm sorry to report.
Another thing that's not happening this week is cooking anything that has to be put in the oven. The slow cooker and grill have been working overtime for preparing supper. And, for lunch, it's been sandwiches, sandwiches, sandwiches. And not just any old sandwiches. Good ones. Like this guacamole chicken salad. We like it because it's delicious, healthy, and filling. The avocados make it pretty, and creamy, and fill in for the job that mayonnaise usually does. Well, for the most part. There is a little mayo in here, but not much.
Feel free to use your favorite kind of rolls or bread for your sandwiches. We like this chicken salad on French rolls, or served open faced on toasted Ezekiel bread.
for 8 sandwiches:
8 French rolls OR 8 slices toasted Ezekiel bread
2 perfectly ripe avocados, cubed
1/4 cup plain greek yogurt
1/4 cup real mayonnaise or Vegenaise
juice of one lime
2 cloves fresh garlic, minced
1 teaspoon freshly ground black pepper
1/2 teaspoon sea salt
1/3 cup red onion, chopped fine
1/2 cup celery, chopped
1 jalapeno pepper, seeds and stems removed, chopped fine
3 cups cooked chicken, cooled and cubed
sliced tomatoes, for topping
hot sauce, for topping
Place avocados, yogurt, mayonnaise, lime juice, garlic, pepper, salt, onion, celery, and chicken in a mixing bowl. Mix until everything is evenly incorporated. Cover and chill until ready to serve. Don't wait too long, this salad is best served very fresh.
Pile salad onto rolls or toast. Top with fresh tomato slices and hot sauce.
Enjoy!
~Melissa
You may enjoy these related posts: