Print Friendly Version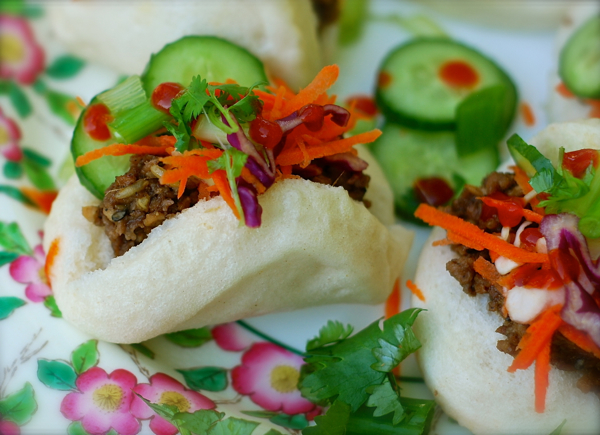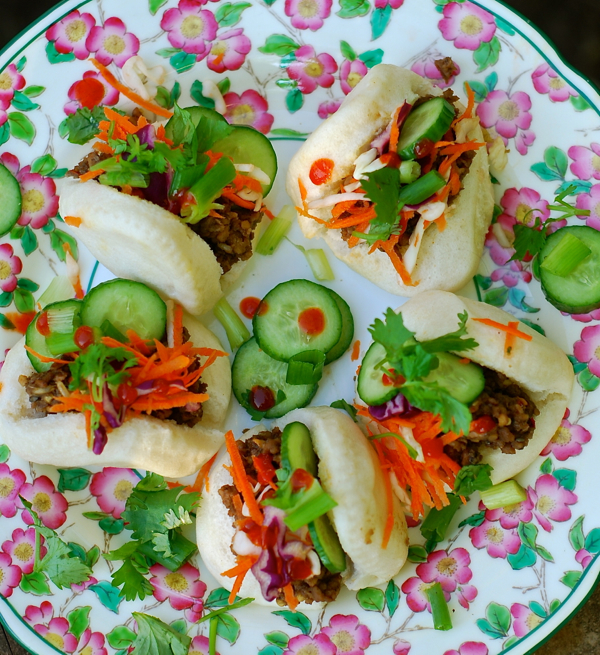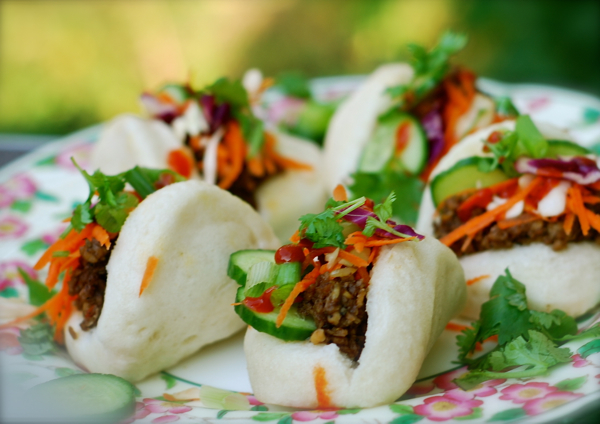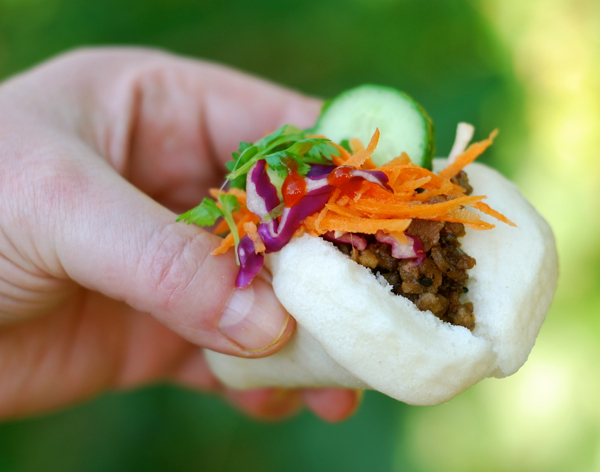 I was inspired to make this dish after enjoying vegan bulgogi at a restaurant on our last vacation. They served theirs in corn tortillas and topped the tacos with chunks of avocado. It was delicious, but I decided to make my own version and use more traditional toppings. I also wanted to develop a recipe for bao buns that wouldn't take all day to prepare. I found a brand of refrigerated "buttermilk" biscuits that don't actually have any milk or eggs in them and thought they'd make a good bao bun dough. I was right! They taste amazing, pretty darn authentic, and they are SO easy to make. I realize the refrigerated biscuits, crescents, and the like, are not health food. This isn't something I'd make every week. I do like having a fun, delicious recipe in my back pocket for parties though. A couple of these little yummies would make an amazing cocktail party appetizer at your next gathering.
This makes a couple dozen small appetizers, and you may have some left over for taco filling later in the week. Feel free to cut the recipe in half for a smaller batch.
for the bulgogi filling:
3 to 4 Tablespoons olive oil
1 cup TVP (textured vegetable protein), soaked according to package directions
8 oz. crumbled tempeh
1 teaspoon red pepper flakes
1 teaspoon onion powder
2 to 3 large garlic cloves, minced
2 Tablespoons fresh, grated ginger
1/4 cup brown sugar or coconut sugar
1/4 cup low sodium soy sauce
1 Tablespoon ketchup
1/4 cup vegetable broth
1 Tablespoon balsamic or rice vinegar
2 Tablespoons sesame seeds
Heat oil in a large, heavy skillet over medium heat. Add red pepper, onion powder, garlic, ginger, and sugar. Stir to form a paste. Cook for about a minute or until fragrant. Drain TVP (if there's excess liquid), and add it along with the tempeh, to the skillet. Mix well. Spread over the bottom of the pan to brown. Once mixture is mostly dry, add the soy sauce, ketchup, vegetable broth, and vinegar. Adjust seasonings if needed, and cook down a bit so most of the liquid evaporates. Finish by stirring in the sesame seeds, salting and peppering to taste, removing from heat, covering, and setting pan aside.
for the easy steamed bao buns:
20 to 24 small refrigerated "buttermilk" biscuits (look for ones with no dairy or eggs added)
Heat an inch or two of water in the bottom of a large sauce pan. Place a large steamer basket over the water and line it with a little cooking parchment (don't cover all the holes of the steamer with parchment, you want some of the steam to get through to the buns.) Remove biscuit dough from tubes and gently flatten them so they're about the size of your palm. Gently fold them over to make half moons and place them on the parchment in the steamer basket (about 1 inch apart so they don't run into each other as they rise and double in size.) Cover pot and allow to steam for about 10 minutes. You'll need to do this in a few batches. Buns will be puffy, dry, and almost doubled in size when they're done. These are best served very fresh, but they'll still be good after an hour or two.
for the toppings:
Put a little bit of the bulgogi filling in each bao bun
Top with: shredded carrots, sliced green onion, thinly sliced cucumber (mini "gourmet" cukes work well for this), finely shredded cabbage, cilantro, and a little drizzle of rice vinegar, a little drizzle of toasted sesame oil, and sriracha hot sauce to taste.
Enjoy!
~Melissa
You may enjoy these related posts: