Print Friendly Version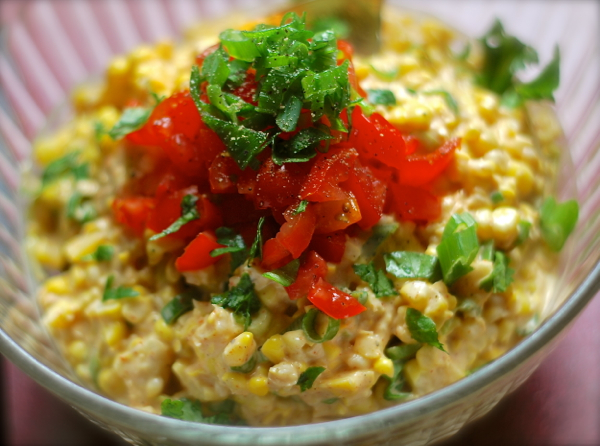 This is one of those salads I could make all summer long and never get tired of it. It's slightly sweet corn crunch blends well with the fresh flavors of cilantro and veggies, and I added smoked paprika for a little depth. Some may want to top their salad with fried bacon crumbles and crumbled queso fresco. Hey, I can't stop you, but I will say I highly recommend tasting this salad without it. It's got a lot of yummyness going on without the added fat and salt that bacon and cheese would contribute.
Make a bunch! It disappears in a flash!
5 to 6 ears grilled, roasted, or boiled sweet corn, cooled completely
1/2 cup mayonnaise (I love Just Mayo's slight lemon flavor)
1/2 teaspoon chili powder
1/2 teaspoon smoked paprika OR 1/4 teaspoon chipotle powder (if you like spicy)
1 large clove garlic, minced (or 1/2 teaspoon garlic powder)
Juice of one small lime or lemon
3 to 4 green onions, sliced (including the tops)
1 Roma tomato, seeds removed, chopped
chopped, fresh cilantro for garnish
salt and pepper, to taste
sriracha (optional)
Cut corn from cobs and place in a medium mixing bowl. Discard cobs or save to flavor your next pot of homemade soup stock. Add the rest of the ingredients (reserving the cilantro, some of the tomato and onion tops for garnish.) Mix well. Chill until ready to serve. Garnish, add a little sriracha if you wish, and enjoy!
~Melissa
You may enjoy these related posts: