Print Friendly Version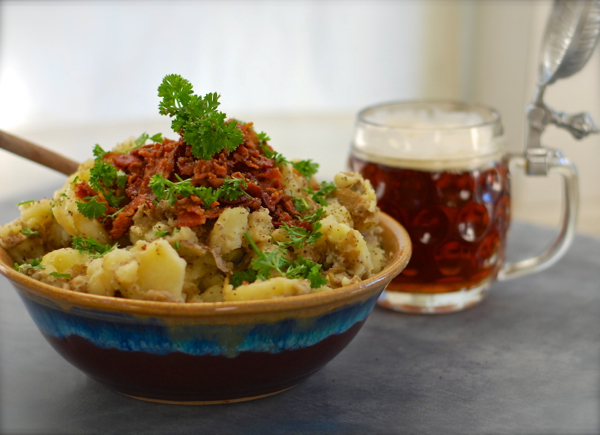 This is a great potato salad recipe to make when you want something a little different than the traditional 'picnic' potato salad, and when you don't have the time to make a side salad that needs to cool for several hours before serving. I made this a couple nights ago and was reminded how good and easy it is.
12 medium size  unpeeled red potatoes, boiled until fork tender (but not too soft-about 20 minutes)
10 slices bacon, fried until crispy-reserve 4 Tablespoons of the bacon drippings
1 cup onion, chopped fine
1/4 cup flour
1/4 cup sugar
2 teaspoons salt
1 teaspoon celery seed
fresh ground pepper
3/4 cup water
1/3 cup vinegar
After boiling the potatoes, drain and set aside. Once cool enough to handle, slice thin and place in a large mixing bowl. Fry the bacon, set aside to cool. Saute the chopped onion in the drippings until golden brown. In a small mixing bowl: combine flour, sugar, salt, celery seed and pepper. Add to onions. Cook until the flour browns slightly, being careful not to burn. Stir in the water and vinegar, boil for a minute, stirring constantly. Carefully combine the bacon and potato with the vinegar mixture. Serve hot or cold.
Enjoy!
~Melissa
You may enjoy these related posts: