Print Friendly Version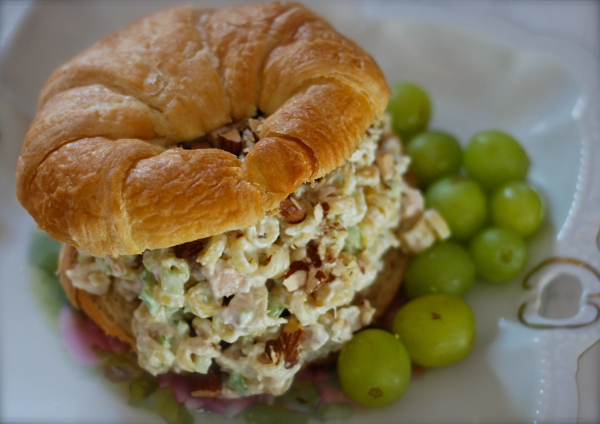 "I wish I were rich, and I could spend the whole summer in a hotel, eating ice cream and chicken salad." ~Diana Barry Anne of Green Gables
There's a sweet little restaurant and tearoom in Lake City Minnesota called The Chickadee Cottage that I visit at least a few times a year with family and friends. They've created a wonderful, quaint place to go for breakfast and lunch, and I especially like it in the summer. My favorite menu item is their chicken salad, but I bought their cookbook because they have a LOT of good recipes that I enjoy making over and over again.
~chickadee cottage chicken salad~
"The secret is out- We really make our chicken salad with turkey breast" ~from the Chickadee Cottage Cookbook
This makes a huge amount of salad. The recipe can easily be cut in half.
7-8 lb. turkey breast, baked in a roasting bag
1 Tablespoon dry onion
3 cups celery, fine-diced
3 cups real mayonnaise
4 oz. container Cool Whip
1-2 teaspoons salt
1/2 teaspoon white pepper
1 and 1/2 lb. green grapes
7 oz. box ring macaroni
1 cup slivered almonds
Cool and cube turkey. Bones, skin and juice can be cooked with water and vegetables to make soup broth.
Cook macaroni per box directions. Drain and cool.
Combine all salad ingredients, except the almonds which are sprinkled over the top just prior to serving. Stir well and taste. Adjust seasonings and add a little more mayo if needed. Pasta will absorb some moisture and seasonings. Chill. Serve on a bed of lettuce or on croissants.
20 servings
note: this salad can certainly be made with chicken
Happy Teatime Tuesday!
Enjoy!
~Melissa
You may enjoy these related posts: