Print Friendly Version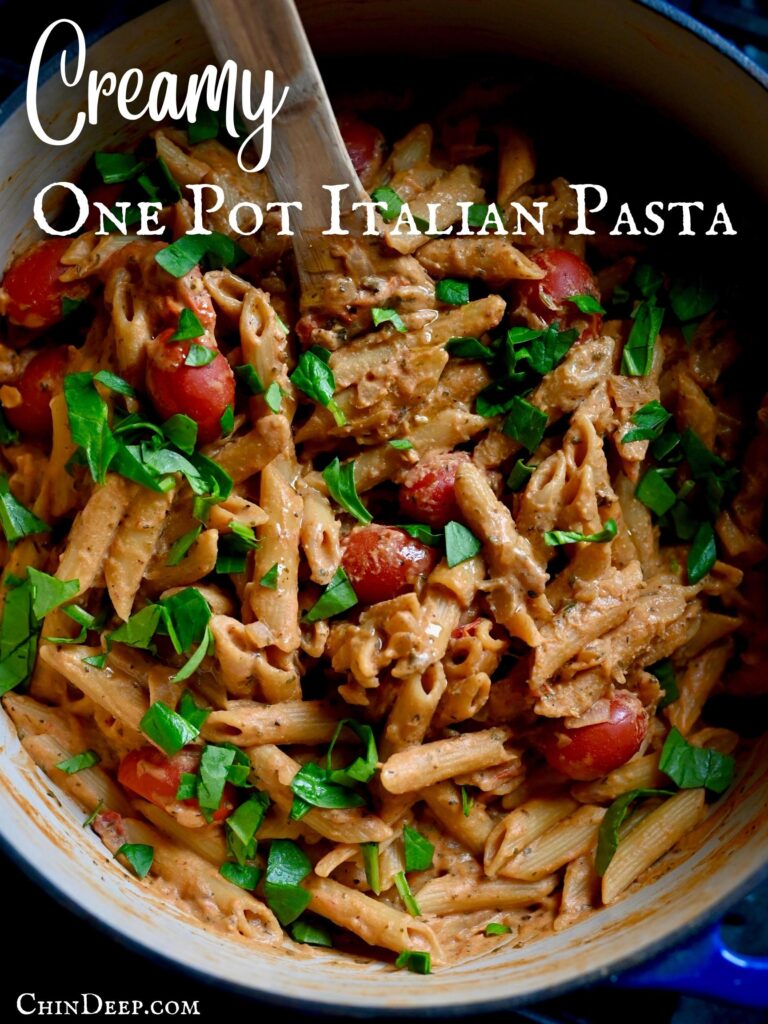 Here's a super creamy, amazing, dairy free, vegan dish that you prepare in one pot. It takes about 30 minutes to make from start to finish. It's so easy, so good, and it's the perfect meal for busy days and weekends on the go. Make up a loaf of garlic bread in the oven, and toss a simple salad while the pasta simmers on the stovetop.
*Note: Use the most plain, unflavored, unsweetened plant-based milk you can find for this. I use Westsoy brand soy milk for cooking and it's works great. I would steer clear of almond milk and oat milk for this recipe. I've used unsweetened, plain Ripple (pea protein milk), and that worked really well too.
2 Tablespoons olive oil
1 large yellow or white onion
4 large cloves garlic
1 teaspoon garlic powder
1 teaspoon onion powder
1 Tablespoon dried oregano
1 Tablespoon dried parsley
1 Tablespoon fennel seeds (optional)
1 pint cherry tomatoes or grape tomatoes
3 Tablespoons tomato paste
2 and 1/2 cups vegan "chickenless" stock/broth OR vegetable stock/broth
*2 and 1/2 cups plant-based milk
16 oz. penne pasta (ziti or rotini would work too)
heaping 1/2 cup nutritional yeast
3 to 4 Tablespoons red wine vinegar
5 oz. fresh spinach leaves (optional)
salt and pepper, to taste
fresh basil leaves and extra virgin olive oil (optional garnish)
Heat oil in the bottom of a heavy soup pot or Dutch oven. Saute for 3 to 5 minutes, or until a light golden brown and translucent. Add minced garlic, and cook an additional 30 seconds. Add all the seasonings, cherry tomatoes, and tomato paste. Stir well. Deglaze pot with a little bit of the soup stock. Cook for 3 minutes, or until the tomatoes start to break down a little. Add the rest of the stock, plant milk, and pasta. Bring to a boil and then reduce heat to a gentle simmer. Cover pot and gently simmer for 10 to 20 minutes, stirring half way through if pasta starts to stick to the bottom of the pot. It's done when the pasta is perfectly al dente and most of the liquid has been absorbed.
Remove from heat. Add spinach (if using) and stir until wilted. Add the red wine vinegar and nutritional yeast. Stir well. Taste and adjust seasonings, adding salt and pepper as necessary.
Plate and drizzle a little extra virgin olive oil over the top and add a sprinkle of fresh basil leaves as a garnish. Serve.
Enjoy!
~Melissa
You may enjoy these related posts: