Print Friendly Version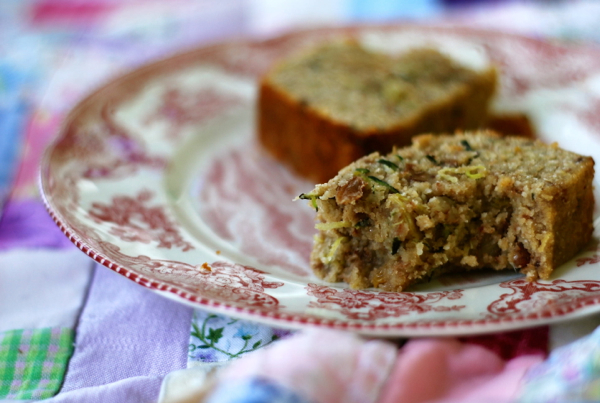 As most of you know, I eat very little wheat or other grains. I enjoy a slice of Ezekiel bread from time to time, I love oatmeal, and I make up a batch of brown rice about once a week. Other than that I'm mostly grain free. I feel SO much better when I kick the gluten, grains and refined sugar to the curb. This bread is so delicious I doubt you'll miss the traditional flour you find in most quick breads. It's a great way to use up the ripe bananas that may be sitting on your counter… and the zucchini that's growing like crazy in your garden.
~ preheat oven to 350 degrees F. ~
1 cup grated zucchini, squeezed dry
1/3 cup organic coconut oil, melted
1/2 cup chopped pecans
1/3 cup golden raisins
3 large eggs, lightly beaten
1 large banana, mashed
1/3 cup raw honey
1 teaspoon pure vanilla extract
1 and 1/2 cups almond flour
3/4 cup coconut flour
1 teaspoon baking soda
1 teaspoon cinnamon
1 teaspoon pumpkin pie spice
1/2 teaspoon pink Himalayan sea salt, ground fine
In a large mixing bowl, combine: zucchini, coconut oil, pecans, raisins, eggs, banana, honey and vanilla. Mix until just combined.
In a medium mixing bowl, combine: almond flour, coconut flour, baking soda, cinnamon, pumpkin pie spice and salt. Stir using a wire whisk until evenly combined.
Add dry ingredients to wet ingredients and mix until just combined and moist.
Oil an 8×4 loaf pan. Pour bread batter into pan and smooth the top.
Bake for 40 to 45 minutes or until golden brown and a toothpick comes clean when inserted into the center of the loaf. Cool in pan for 15 minutes. Gently loosen edges of loaf with a knife. Turn out onto a cooling rack and cool completely before slicing.
Enjoy!
~Melissa
You may enjoy these related posts: