Print Friendly Version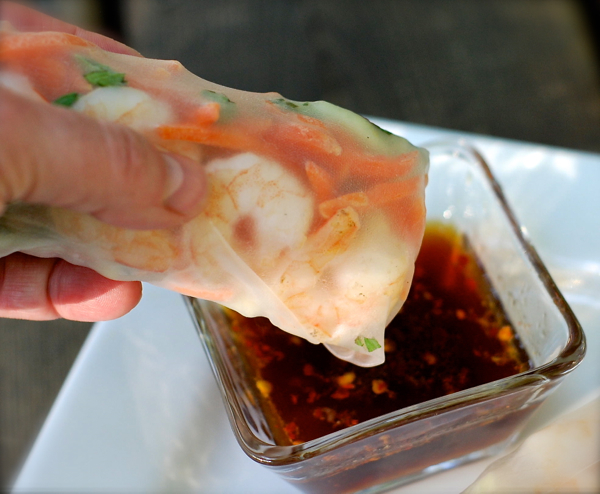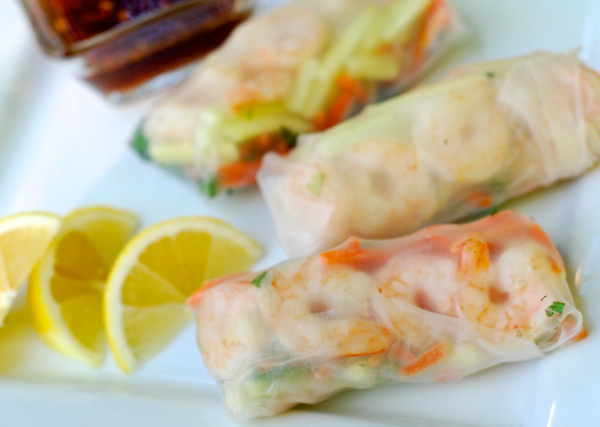 Beautiful, fresh, healthy summer fare! I adore all the ingredients that make up these gorgeous spring rolls. They're a true celebration of summer flavors!
for 4 people (3 rolls each)
12 Vietnamese rice spring roll wrappers
1 and 1/2 cups julienned carrots (or shredded)
1 and 1/2 cups, peeled, seeded, julienned cucumbers (or chopped)
1 lb fresh medium, shrimp, peeled, deveined and tails removed
1 Tablespoon olive oil
juice of 1/2 lemon
3/4 cup chopped, fresh mint
3/4 cup chopped, fresh basil or cilantro
ponzu ginger dipping sauce (recipe below)
lemon wedges for garnish
Saute shrimp in the olive oil until tender and pink. Don't over-cook. Place cooked shrimp in one layer on a plate and place plate in refrigerator. Refrigerate just until shrimp is chilled. Toss chilled shrimp with the juice of 1/2 lemon.
Julienne carrots and cucumber. Chop fresh herbs.
Prepare Ponzu Ginger Dipping Sauce (recipe below.)
Once you have all of your spring roll fillings ready, prepare spring roll wrappers according to package directions. (I soaked them individually for 15 to 20 seconds and placed them on a wet, clean flour sack towel prior to filling them.) Only make one spring roll at a time.
Place 4 to 5 shrimp towards the bottom of each softened spring roll wrapper. Top with 2 scant Tablespoons carrot, 2 scant Tablespoons cucumber, 1 scant Tablespoon of mint, and 1 scant Tablespoon of basil or cilantro. Roll up according to package directions (I folded the bottom up first, followed by the sides, and then rolled it up all the way.) This sounds more complicated than it is. You'll get the hang of it, just be patient.
Once all 12 rolls are done, place them on a pretty platter (not touching) and refrigerate until ready to serve. (These can be assembled about an hour in advance.) When ready to serve, plate and give each person a little ramekin full of the dipping sauce. Garnish with lemon wedges.
for the Ponzu Ginger Dipping Sauce:
In a small bowl, combine:
1/2 cup ponzu sauce (or low sodium soy sauce)
1/4 cup rice wine vinegar
1 Tablespoon finely grated, fresh ginger
1 teaspoon onion powder
2 large garlic cloves, minced
2 Tablespoons honey
2 teaspoons dark sesame oil
2 teaspoons lemon zest
red pepper flakes, to taste
Enjoy!
~Melissa
You may enjoy these related posts: