Print Friendly Version
~rose geranium butter cake~
This recipe was inspired by my friend Bonnie's chocolate rose geranium cake. We use to make them at the tearoom and I remember a day when we were hosting a special tea and every available surface was covered with them! We still laugh about that. I walked into the kitchen and said, "Whoa! Think you made enough cake?"
Today I decided to flavor a simple butter cake with rose geranium leaves. I used the butter cake recipe that I found in this book that my friend Steph sent to me…Thanks Steph!…
To make the cake:
1/2 cup butter
1 cup sugar
3 eggs
2 cups flour
2 teaspoons baking powder
1 cup whole milk
1 teaspoon pure vanilla extract
In a standing mixer, combine the softened butter, sugar, eggs, milk and vanilla until smooth. Mix the flour and baking powder in a separate bowl. Add flour mixture to wet ingredients gradually until it's all incorporated and smooth. (I always do the last bit of mixing by hand.)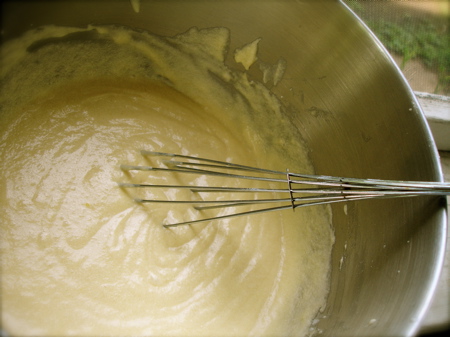 generously butter a 9 inch round cake pan
line with rose geranium leaves that have been rinsed and patted dry
flatten them a bit
and slowly pour the cake batter over them.
Bake at 350 degrees F. for 45 minutes
or until a wooden skewer comes clean when inserted into center.
Cool in pan on a wire rack for 15 minutes.
Loosen sides of cake with a butter knife.
Carefully invert pan over a large serving plate
until cake releases from pan.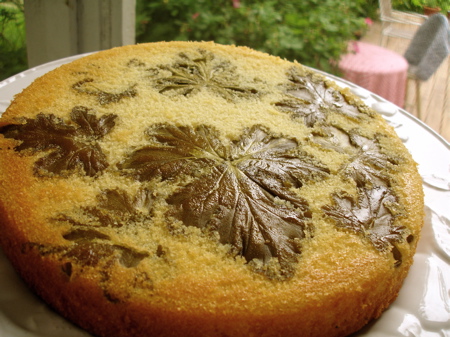 Cool completely.
Gently peel off leaves.
Sprinkle with powdered sugar.
Serve as is or with a pile of fresh fruit over the top.
To make fruit topping:
combine 1/4 cup sugar and the juice of one lemon
with 2 or 3 sliced nectarines.
Pour over top of cake slices.
SOOOOO yummy!
Enjoy!
~Melissa
You may enjoy these related posts: