Print Friendly Version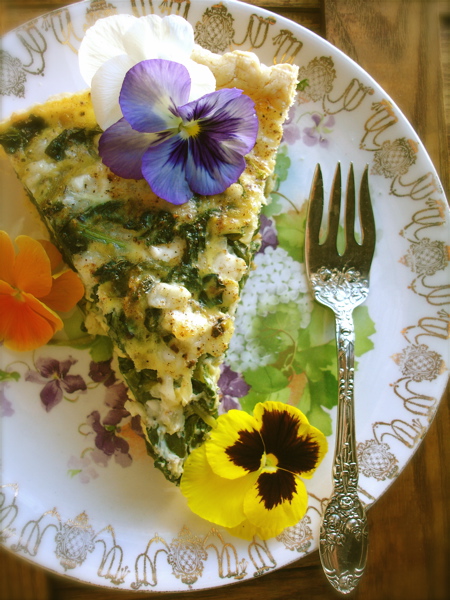 ~farm house spinach quiche~
This is one of the easiest quiches I've ever made. I used a short cut…already made pie crust. Pillsbury makes such a good one, I'm sure I'll keep this recipe in my bag of tricks. This would be a perfect addition to an impromptu breakfast, brunch, or tea!
preheat oven to 350 degrees F.
1 Tablespoon butter or olive oil
1 medium onion, chopped
10 oz. fresh spinach, chopped
9 inch pie crust (uncooked)
1 cup grated farmer's cheese
1/2 cup grated gruyere or asiago cheese
4 eggs
1/2 cup cottage cheese
1/2 teaspoon salt
1/2 teaspoon fresh ground pepper
1 teaspoon nutmeg
Heat butter or olive oil in a skillet. Saute onion for 8 minutes. Add spinach. Saute until wilted. Cool slightly. Set aside.
Prick bottom of pie crust with a fork about 8 times. Sprinkle the cheeses over the bottom of the pie crust. Top with spinach mixture. Beat eggs, cottage cheese, and spices in a big bowl. Pour slowly over spinach. It will seem like you can't fit all of the egg mixture in the pie shell, but if you sort of shift the ingredients around with a butter knife and pour slowly, you should be able to get it all in there. Place quiche on a large cookie sheet. Bake 50 to 60 minutes or until set. Cool on a wire rack for a little while. Serve with your favorite breakfast accompaniments…we had ours with a bunch of fresh watermelon and a pot of French press coffee. Heavenly!
Enjoy!
~Melissa
You may enjoy these related posts: