Print Friendly Version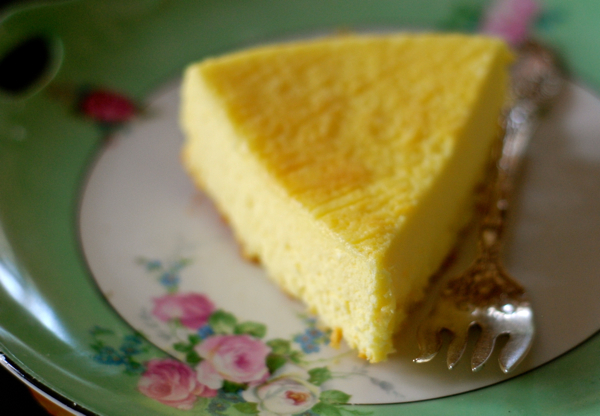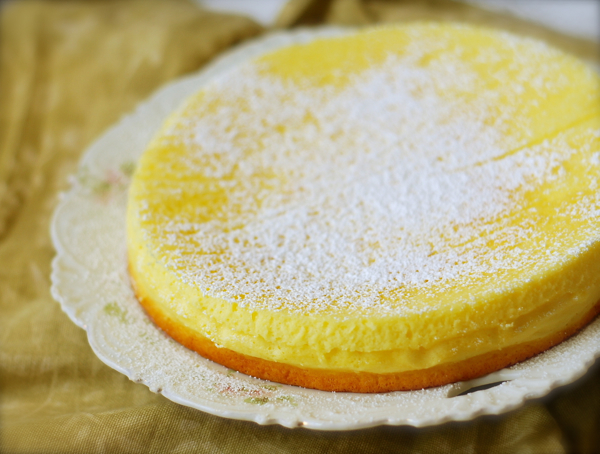 There are several recipes for this Japanese "cheesecake" floating around out there on the internet, and I've been meaning to make one for awhile. This is traditionally called "cotton" cake and isn't like any other cheesecake I've ever tasted. Actually, calling this cheesecake is a bit misleading. It's light and fluffy and sort of reminds me of a thick kuchen or Dutch baby. It's simple ingredients call for lots of whipped cream and berries as a topping. Strawberries and cream would be perfect for Valentine's Day. Make this a day in advance and allow it to completely chill over night. It's best when it's served very cold.
~ preheat oven to 350 degrees F. ~
1 and 1/2 cups chopped white chocolate or white chocolate chips
8 oz. cream cheese, softened to room temperature
6 large eggs, separated
Line the bottom of a greased 8 or 9 inch round cake pan with a round piece of cooking parchment cut to fit. Grease parchment.  Cut a 21×5 strip of cooking parchment to line the sides of the pan. Grease parchment. This strip will be much taller than the pan, and it's purpose is to keep the cake from cracking while it cooks.
Melt the chocolate in microwave in 15 second bursts. Stirring in between each burst, taking care not to over cook it. Stir in the softened cream cheese until smooth. (Using a hand held electric mixer works well for this.) Transfer to a large mixing bowl. Add egg yolks. Stir well to combine.
In the bowl of a counter top mixer, using the whisk attachment, whip egg whites on high speed until stiff peaks form. Add a third of the egg whites to the chocolate mixture and fold in, using a rubber spatula and mix well. Stir in the rest of the whites in two separate additions, just until evenly combined.
Pour into prepared pan. Place pan in a larger pan. Fill larger pan with boiling water so it reaches half way up the side of the smaller cake pan. Carefully place in preheated oven. Bake just until cake is set and golden brown on top, approximately 40 minutes. Once done, turn off oven and allow cake to rest inside the oven for 15 minutes. Remove from oven and water bath. Keep cake in pan and allow to cool completely on a wire rack. Once completely cool, transfer cake to a cake plate. Cover and chill 8 hours or over night before cutting and serving. Garnish with powdered sugar, whipped cream and fresh fruit if you wish.
Enjoy!
~Melissa
You may enjoy these related posts: