Print Friendly Version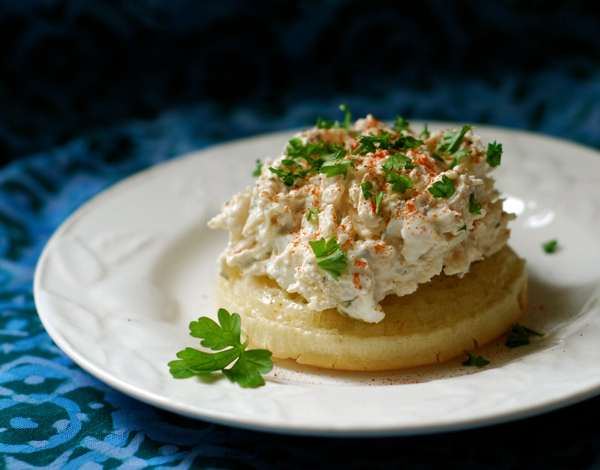 Spring is coming! Can you feel it? It's there like a little cat peeking around the corner, ready to pounce. I'm so glad. I'm done with all of the cold, gray days. Bring on the sunshine, and the flowers, and most of all the color! Who else is craving color?
When I start thinking spring and summer I start by changing what I'm creating in the kitchen. Hearty, thick, comforting soups, casseroles and stews give way to cold, creamy salads, sweet fruity desserts and menus that feature grilled meat and crisp veggies.
We just love chicken salad. I'll eat it any time of day. I even like it for breakfast when I'm feeling peckish and in need of a protein fix. I change my chicken salad recipe almost every time I make it. It has a lot to do with my mood and what's in the refrigerator/cupboard.
Here's what I came up with a few mornings ago and it was too good not to share so I made sure to jot the recipe down. This would make a lovely offering for a tea party lunch.
for one serving:
1 toasted crumpet, buttered
1/3 to 1/2 cup cooked, chilled and chopped chicken breast
2 Tablespoons (or so) plain greek yogurt
1 to 2 teaspoons real mayonnaise
1/2 teaspoon dried tarragon leaves
1/8 teaspoon onion powder
1/8 teaspoon garlic powder
salt and pepper (to taste)
fresh, chopped parsley and smoked paprika (garnish)
Toast crumpet and place it on a plate. Butter it and set it aside while you make the chicken salad.
Place the following ingredients in a medium mixing bowl: chicken, yogurt, mayonnaise, tarragon, onion powder and garlic powder. Mix well and add salt and pepper, to taste.
Pile the chicken salad on the crumpet. Garnish with the parsley and smoked paprika. Serve open faced. I ate mine with a fork.
Enjoy!
~Melissa
You may enjoy these related posts: