Print Friendly Version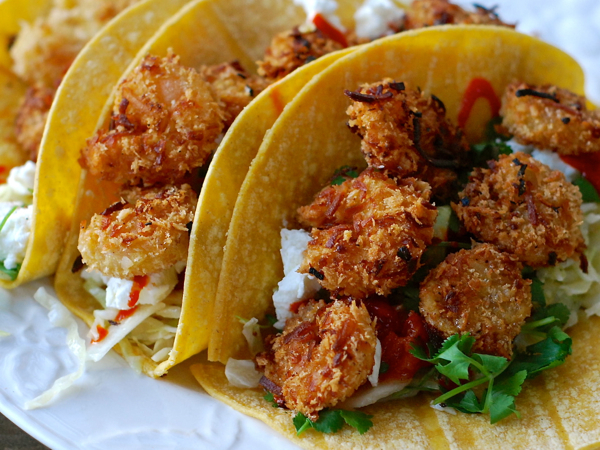 I'm sure I've already told you how much we love tacos and how often we eat them. I'm always trying to come up with new ways to make them. One of my favorite foods is coconut shrimp and I finally got around to making some a couple days ago. Why not use them as a taco filling? They turned out absolutely fabulous. I used traditional fish taco toppings for these, but THIS version would be good too. Just sub the coconut shrimp for the fried fish.
Makes approximately 8 or 9 tacos
1/2 cup all-purpose flour
1 teaspoon salt
1 teaspoon freshly ground black pepper
2 large eggs, beaten
1 cup panko bread crumbs
1 heaping cup sweetened coconut, shredded
1 to 1 and 1/2 lb. raw shrimp (I use small or medium for tacos)
coconut oil for frying (approximately 1 inch deep in skillet)
For your work station, start with 3 medium mixing bowls. In the first bowl, mix the flour, salt and pepper. In the second bowl, beat the eggs. In the third bowl, combine the panko and coconut.
Before you start heating the oil, you'll want to get the shrimp completely ready. If your shrimp has been frozen, thaw it and gently pat it dry. Then dip the shrimp into the flour mixture, followed by the egg, and then finally the coconut mixture. When you get to the coconut mixture try to get as much of the coconut and panko as possible to stick to each piece of shrimp by rolling it in the bowl and then gently pressing it on. As you coat your shrimp, lay them on plates. Once all of the shrimp is ready, heat your coconut oil so it's very hot and then turn the flame down to medium-high. The goal is to cook the shrimp so it's golden brown on the outside and just pink and heated through in the middle. For small shrimp it takes approximately 1 minute of cooking time on each side. You don't want to have the flame on too low because this will cause your shrimp to become soggy and greasy.
Place 8 or 9 shrimp in the hot oil at a time. Once they're golden on one side, flip them and cook them until they're golden on the other side. Test for doneness. Place cooked shrimp on paper towel-lined plates. Cover cooked shrimp with heavy duty aluminum foil once you have a full plate. This will keep them warm while you cook the rest.
for the tacos:
Heat 9 soft, corn or flour taco shells
top with:
cheese (optional, we used chevre)
sweet coleslaw
pineapple salsa (we like Newman's Own)
cilantro
coconut shrimp
hot sauce
Plate and enjoy!
~Melissa
You may enjoy these related posts: