Print Friendly Version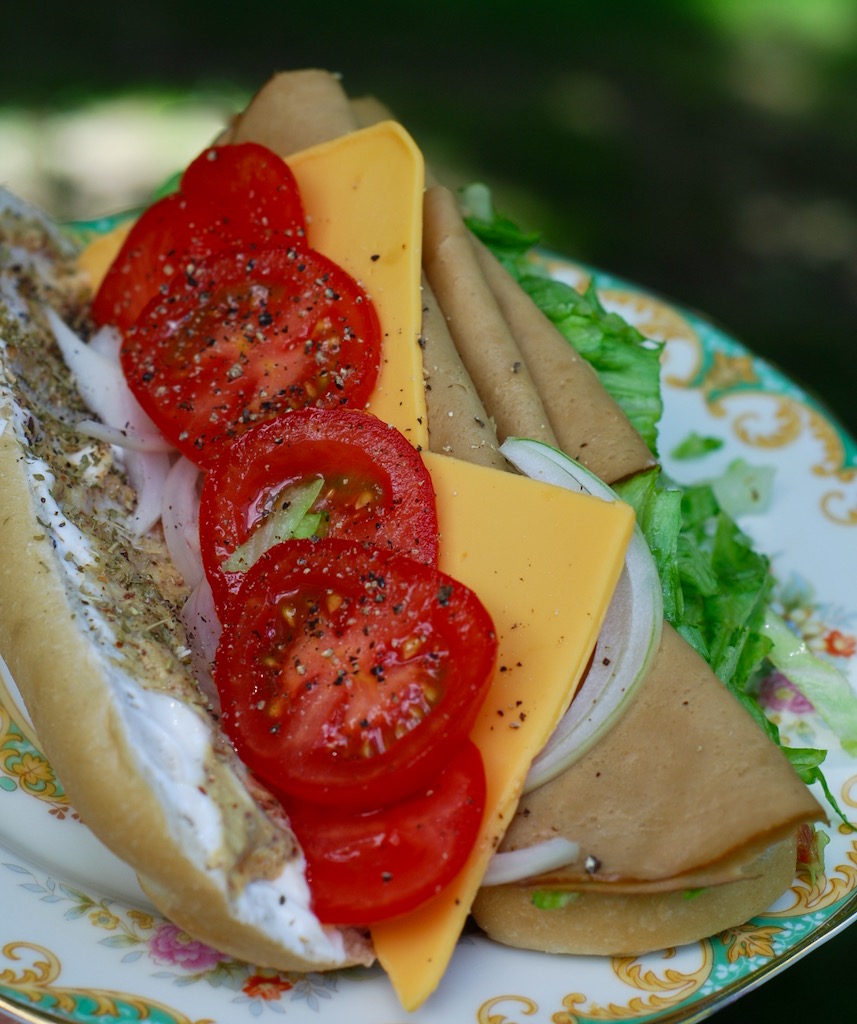 We have been enjoying sooooo many beach picnics this year and this is, hands down, our favorite picnic sandwich. It's easy to prepare and it travels well. I put the vegan mayo, tofurky, vegan cheese, spices, and onion on the hoagie buns and then wrap them up and put them in the cooler. I pack the rest of the toppings separately in Ziplocs so people can choose what they like and so the sandwiches don't get soggy on the way to the beach. It's a pretty slick system.
We like these with Dill Pickle Potato Salad and/or chips, and these Choc-Oat Chip Peanut Butter Banana Cookies for dessert. I developed the cookie recipe prior to going vegan, so now I just sub pure maple syrup or agave syrup for the honey. Easy peasy.
This is sort of a non-recipe recipe, but I'll tell you how to build the sandwich as if you've never made a sandwich before.
for each hoagie:
1 hoagie bun or sub bread cut to 8 inches
your favorite vegan mayo or sandwich spread
salt and pepper, to taste
oregano, to taste
garlic powder, to taste
Tofurky (or your favorite vegan sandwich meat)
your favorite creamy sliced vegan cheese (Chao or Follow Your Heart American Slices work well in sub sandwiches.)
thinly sliced yellow, white, or purple onion
sliced cucumber or pickles
sliced, perfectly ripe tomato
pepproncini slices or jalapeno slices (if you like a little spicy kick)
sliced kalamata olives (optional)
chopped up marinated artichoke hearts (optional)
shredded lettuce (iceberg or romaine)
red wine vinegar
extra virgin olive oil
As I said above, just make the sandwiches without all the wet toppings and pack them in a cooler. Put the wet ingredients in separate little Ziplocs and then place them in a larger Ziploc to insure nothing leaks on the way to your picnic spot. Put the oil and vinegar in a squeeze bottle with a top that closes. Put that in a Ziploc too. Did I say Ziploc enough times? lol
Now you're ready to make those sandwiches when you get to the park/beach. Sooooo delicious!
Enjoy!
~Melissa
You may enjoy these related posts: