Print Friendly Version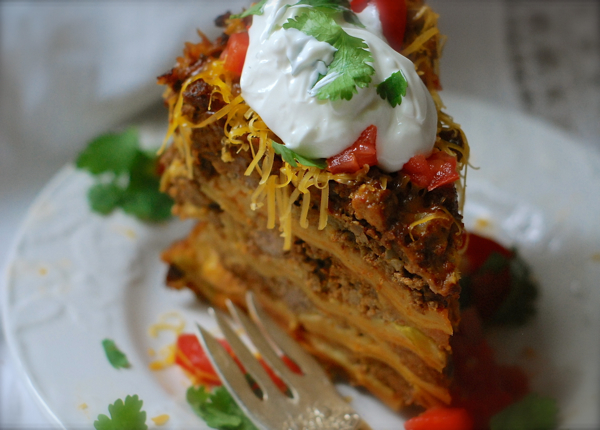 Sometimes I seriously wonder what would happen for dinner at our house without the help of my trusty slow cookers! I love them! This recipe requires a 4 quart, round one. The big, 8 quart slow cooker will only work if you double the recipe.
When stacking the ingredients, think 5 layers of tortillas with 5 layers of meat and cheese in between. Divide your ingredients accordingly.
~ serves 6 people ~
1 large onion, chopped
3 to 5 large cloves garlic, minced
2 Tablespoons olive oil
 2 lbs. lean ground beef
1 Tablespoon cumin
1 Tablespoon smoked paprika
3 Tablespoons mild chili powder
1/2 teaspoon cayenne pepper
1/4 teaspoon turmeric
1 (10 oz.) can cream of mushroom or cream of chicken soup, undiluted (I use Amy's)
1 (4 oz.) can diced green chilies
15 corn tortillas
4 cups shredded pepper jack OR cheddar jack cheese
topping suggestions:
sour cream
salsa or pico de gallo
sliced black olives
shredded lettuce
chopped, fresh cilantro
hot sauce
guacamole
In a large, heavy skillet, saute the onion and garlic in the olive oil. Once tender, add the ground beef. Cook just until the beef is about half brown and half pink. Drain off excess fat. Place the onion/beef mixture in a large mixing bowl. Add the cumin, paprika, chili powder, cayenne and turmeric. Mix well.
In a separate mixing bowl, combine the cream soup and green chilies.
Place 3 Tablespoons of the soup mixture in the bottom of your slow cooker. Top with 3 of the tortillas, 3 more Tablespoons of the soup mixture, 1/5 of the beef mixture, and 1/5 of the shredded cheese. Continue to make these layers until you use up all of the ingredients (ending with the cheese.) Cover slow cooker and cook on LOW for 6 hours or on HIGH for 3 to 4 hours.
Plate and top with desired toppings.
Note: To get the pretty wedges of this casserole (as pictured above) you'll have to make the casserole one day in advance. Once it's done, cool it a bit before refrigerating overnight. When you're ready to eat, remove the casserole from the refrigerator and cut it into wedges while it's still cold. Re-heat individual wedges in microwave.
Enjoy!
~Melissa
You may enjoy these related posts: