Print Friendly Version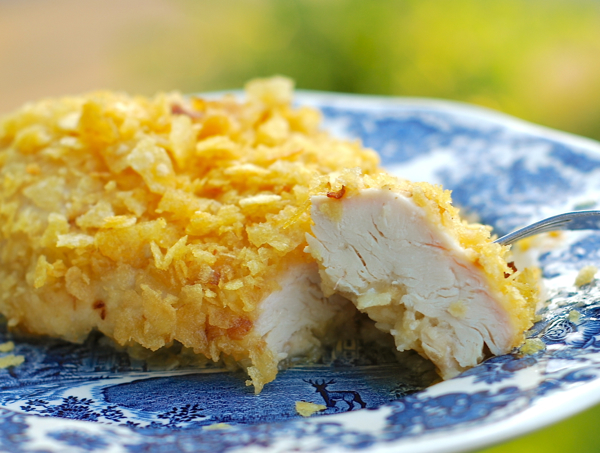 ~Grandma Darling's Potato Chip Chicken~
Here's a recipe that takes me back to my childhood. My grandma makes this yummy, easy (actually pretty fattening) chicken. If you're in the mood for a "retro" dinner, make this with mashed potatoes (mixed with cream cheese or sour cream and oven roasted garlic), gravy, and a little tossed salad. My grandma tops her crisp, iceberg lettuce salads with minced garlic cloves that have been steeping in extra virgin olive oil, Marie's Thousand Island Dressing, tomato, cucumber, and Pepperidge Farm's croutons. She takes a little oil out of the garlic jar and drizzles it on top of the salad for extra flavor and zing. After dinner she will serve something like tapioca pudding or strawberry shortcake for dessert.
for 4 big pieces of potato chip chicken:

~ preheat oven to 350 degrees F. ~
4 large boneless, skinless chicken breasts, patted dry
1 heaping cup Hellmann's real mayonnaise (or your favorite)
9.5 oz plain potato chips, crushed
1 teaspoon garlic powder
1 teaspoon onion powder
1/2 teaspoon black pepper
Pat chicken pieces dry using paper towels.
Mix mayonnaise, garlic powder, onion powder, and black pepper in a medium mixing bowl.
Crush potato chips into a large mixing bowl.
Dip chicken pieces, one at a time, in the mayo mixture, coating evenly. Then dredge in the potato chips, pressing so chicken gets completely coated. Place coated pieces in a 9×13 baking dish.
Bake, uncovered, for 30 to 40 minutes, or just until done and no longer pink inside.
Enjoy!
~Melissa
You may enjoy these related posts: