Print Friendly Version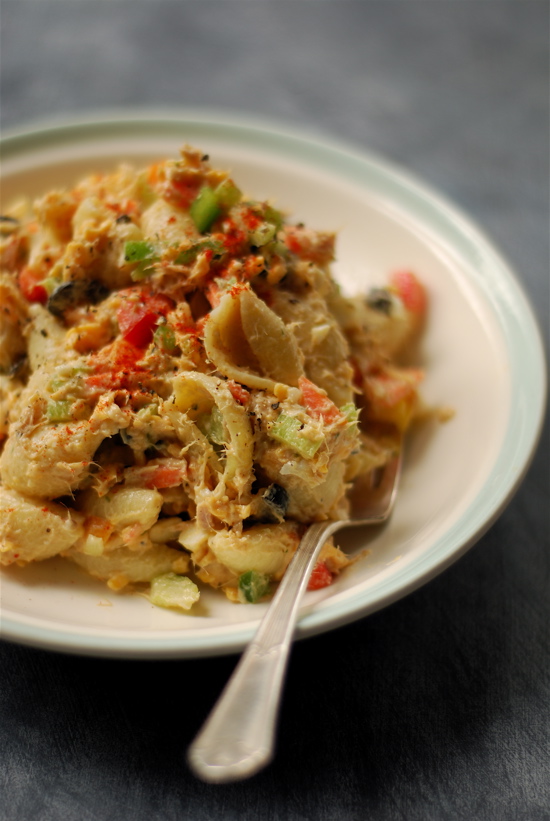 I'm trying to post all of my summer salad recipes before September 1st. I have so many of them I don't know if  I'll be able to without inundating you with salad seven days a week! Well, we'll see. There are still a couple weeks left.
This tuna pasta salad can be tailored to fit your tastes. Add or subtract veggies at will, lighten it up by using Canola mayo instead of the fully loaded stuff…use your favorite herbs and spices. Like sugar or mustard in your tuna salad? Add it!  This is my favorite way to make the humble salad. I hope you love it as much as I do.
16 oz. small or medium shell pasta, cooked al dente and cooled
10 oz. canned tuna, drained well
4 hard boiled eggs, chopped
1 large carrot, chopped
4 sticks celery, chopped
3 Tablespoons sweet pickle relish or chopped sweet pickles
1 cup Parmesan Peppercorn Ranch Dressing
1/2 cup mayonnaise
8 oz. sharp cheddar, shredded
1/4 cup freshly grated Parmesan, Asiago or Romano cheese
3 oz. black olives, chopped fine
1/2 small onion or 3 green onions, chopped
1/3 cup chopped bell pepper (any color)
dash or two of cayenne pepper
salt and black pepper to taste
Combine all ingredients in a large mixing bowl until mixed well and all ingredients are evenly incorporated. Cover and chill well before serving.
Enjoy!
~Melissa
You may enjoy these related posts: